What is the best military branch for firefighters?
An Air Force reservist gives his opinion on the topic; add your own thoughts in the comments
---
A question posted recently on Quora asked, "What is the best military branch for firefighters?" Shane White, an Air Force reservist, gave his opinion on the topic below. Check it out and add your own thoughts in the comments.
Let me first state for the record that I am currently a firefighter for the DoD and have been an Air Force reservist for nearly 20 years.
Having said that I will tell you that all military firefighters in the Army, Marines, and Air Force receive their tech school training in San Angelo, Texas at the Louis F. Garland Fire Academy. I've heard a rumor that the Navy sends some people there, but I can't personally confirm that information.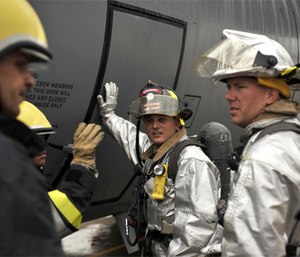 As for a job, in the Marine Corps and the Army you are always a Marine or soldier first, and your MOS second, meaning you might be trained in a job but you might not actually do that job … ever. In the Air Force, your AFSC (Air Force Specialty Code) is your job. It is what you will do for the entirety of your enlistment unless you cross-train, there are overages, or you become too injured to remain in the career field. I'm sure there are a couple other exceptions but those are the big ones.
As an Air Force firefighter, you will report to work every day at the fire station and you will complete all the daily tasks that go along with operating a fire department, including training and daily details.
It is true that safety is stressed very heavily in the Air Force so you typically won't get a ton of action. There are always opportunities for mutual aid and deployment and that can be worthwhile. Having worked for the Navy, the Marine Corps and the Air Force I can tell you they all run about the same number and type of calls. Understand that I have only worked small-based in the states and this usually means heavy emphasis on safety. Some Air Force bases overseas see a good deal of fire working with local communities and some of my DoD buddies work for bases with strong mutual aid agreements that provide plenty of fire.
The fire service in general has seen a reduction of fires since the 1970s and EMS is now the primary generator of runs. The Air Force recognizes this and also takes Hazardous Materials training very seriously, for this reason you are very likely to receive either EMT or HazMat certifications, or both in the Air Force.
A good number of firefighters that currently work for the DoD are prior enlisted Air Force so it can be a good foot in the door to a federal job. Understand that if you're looking to go municipal a lot of departments will still require you attend their academy before employment even if you have every cert in the book.
Good luck to you in the future!
This article, originally published in 2017, has been updated.