Ex-con charged with murder in road rage death of FDNY firefighter
Joseph Desmond, a reputed Latin Kings gang member, was formally charged with a second-degree murder in the Dec. 9 road rage death of Faizal Coto
---
By Graham Rayman
New York Daily News 
NEW YORK — A reputed Latin Kings gang member was formally charged Tuesday with beating an off-duty firefighter to death with a baseball bat during a road rage incident in Brooklyn.
Suspect Joseph Desmond — who was just released from prison seven months ago after serving four years for an anti-gay attack in Queens — had been captured a week ago at a Circle Inn in South Amboy, N.J.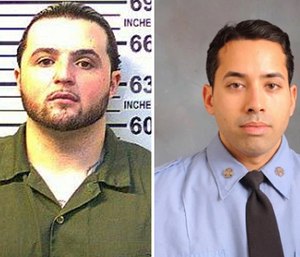 Following extradition he was brought to the 62nd Precinct stationhouse in Bath Beach and later moved from there to Central Booking.
Desmond was found some 25 miles from where he allegedly attacked off-duty firefighter Faizal Coto Dec. 9, sparking a manhunt that ended when NYPD officers and U.S. marshals caught him.
Coto was attacked with a baseball bat on the Belt Parkway after his car bumped into Desmond's vehicle near Exit 4 in Bath Beach.
Desmond allegedly drove off in his 2006 Infiniti G 35. A short time later, the car was tracked going through a Hudson River tunnel into New Jersey.
Coto, a three-year FDNY veteran, was a member of Engine 245 / Ladder 161 in Brooklyn.
Desmond was arrested on Sept. 25, 2012, for spewing anti-gay slurs and shooting a 23-year-old man with a stun gun at the corner of Gates Ave. and Fairview Ave. in Ridgewood.
According to court papers, Desmond stormed up to his victim, called him a "f-----t," then blasted him in the chest with the stun gun.
The victim suffered a minor injury and called police. Cops arrested Desmond a few hours later. Desmond pleaded guilty to the charges in 2014 and served the four years before being released on parole until 2023.
McClatchy-Tribune News Service