Friends remember slain Miss. firefighters after off-duty murder
Adams County volunteer firefighters Troy Whittington and Jason Haley were killed in a domestic dispute at the home of a friend
---
Scott Hawkins
The Natchez Democrat, Miss.
NATCHEZ — A friend and associate of two Adams County volunteer firefighters who were shot to death on Friday night, said both men were community-minded people who worked hard to make the community a better place.
Troy Whittington, 31, and Jason Haley, 34, both Adams County volunteer firefighters were shot to death Friday night while at the house of friends and fellow firefighters on Quasar Street, just off U.S. 61 North after attending the Natchez Krewe of Phoenix Mardi Gras parade.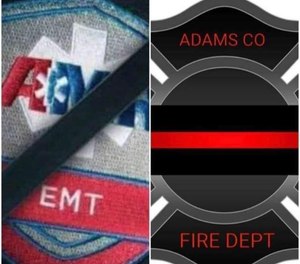 The men went to the house with a woman and her two children and two of her children's friends, when the woman's estranged husband, Jonathan Beach, 36, tried to enter the house, said Lt. Cal Green of the Adams County Sheriff's Office.
Both Whittington and Haley, officials said, had their guns drawn when Beach entered the house. Beach shot Whittington and Haley who died of their gunshots, authorities said, but not before Haley fired his gun striking Beach, who suffered a non-life threatening wound. Whittington did not fire his gun, authorities said. The wife and children remained locked in a back bedroom, authorities said.
Beach was arrested later that night and is being held on two counts of murder with no bond, Green said. More charges could be filed, pending further investigation, Green said.
Robert Bradford Sr., Adams County emergency management director, who oversees county volunteer firefighters, said both Whittington and Haley were good men who spent a great deal of time volunteering for emergency management training and firefighting.
Whittington, Bradford said, had been involved in volunteer firefighting for approximately 16 years, having been involved in organizations in Louisiana before moving to, and getting involved in volunteer emergency efforts in Adams County.
"Troy, he was a volunteer fire chief for the Lake Montrose area," Bradford said. "He was a father of two boys … husband … and worked for Allied Tree Company."
When Whittington was not at work for his regular job, he could be found at the county emergency operations center looking for ways to pitch in and help with training, Bradford said.
Whittington also was involved in helping maintain the VFD fire engines to keep them up and running, Bradford said.
"He did a lot of stuff in emergency management and helped after the storms," Bradford said. "He was very active in the fire services. He got the junior firefighter volunteer program back up in the county and was working and teaching them different things about how to fight fires. Overall, he was just well rounded. Whatever we needed, he was willing to help."
Haley and his wife, Billie, lived just across the Franklin County line, Bradford said, but they volunteered for fire and emergency services in Adams County about three years ago.
"He was a great husband and loved to go above and beyond," Bradford said, adding that when Haley and his wife joined the VFD program they got heavily involved quickly, taking classes and training. "He and his wife took control of the Liberty Road Fire Station and pushed it to the next level. They helped out during fires and disasters. Anything that was needed."
Bradford said Jason had recently battled cancer, and that during his fight with cancer, others had to keep him from using too much energy in volunteer firefighting and emergency services.
Bradford said the community lost two great assets in Whittington and Haley.
"Not just the community but the volunteer fire program lost a lot of leadership, knowledge and strong dedication," Bradford said. "We lost two high-caliber volunteers at one time. That's a great loss to any organization at one time … They've left their will and the passion in the volunteer program. Many juniors are coming up behind us with a lot of intestinal fortitude."
The funeral for Haley will be noon Monday at New Hope Missionary Baptist Church, 418 Morgantown Road. Visitation will also be at the church Monday morning from 10 a.m. until noon.
The funeral for Whittington will be noon to 1 p.m. Tuesday at Kingston United Methodist Church, 1090 Hutchins Landing Road. Visitation will also be at Kingston, from 11 a.m. until 1 p.m. A crowdfunding account has been set up to help cover Whittington's funeral costs at www.gofundme.com/troy-whittington-family.
At least $4,800 is needed to help cover the funeral costs and a fund has been set up through the Adams County Volunteer Firefighters Association to help both families. Checks can be made out to Adams County Volunteer Firefighters Association and mailed to 575 Kingston Road, Natchez, MS 39120.
———
©2019 The Natchez Democrat (Natchez, Miss.)
McClatchy-Tribune News Service