Mich. fire Lt. killed in off-duty tire explosion
Ethan Gage, 26, died after suffering severe trauma to the face and head when a tire exploded while he was using a machine to replace farm implement tires
---
By FireRescue1 Staff
CLARE, Mich. — An off-duty firefighter died Monday after an accidental tire explosion.
WNEM reported that Clare Fire Department Lt. Ethan Gage, 26, was using a tire changing machine at his other job to replace farm implement tires when an explosion occurred.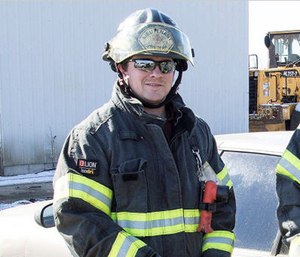 Gage suffered severe trauma to his face and head and was pronounced dead at the scene.
CFD Chief James Chapman said Gage was also a training officer and had been a member of the department for almost seven years.
"Ethan was a boy who you'd want to call your son. He was a great individual, hard-worker," Chapman said. He loved people. He didn't talk bad about people. He was just a totally upright fellow."
Chapman added that the firefighters are "going to be lost here for a little while."
"I wish I could be a little more like him. He was young but he walked a straight line. He was a role model for every man," he said.
A GoFundMe was launched to help raise funds for the Gage family. Click here to donate.