NYPD arrest teen suspect in attack on off-duty firefighter
The suspect, Damir Johnson, 17, walked out of the precinct while facing down a line of angry firefighters
---
By FireRescue1 Staff
NEW YORK — A teen suspect accused of sucker-punching an off-duty firefighter who had come to the defense of a couple being harassed on the streets has been arrested. 
Police arrested Damir Johnson, 17, who is being charged with second-degree assault, reported ABC7NY.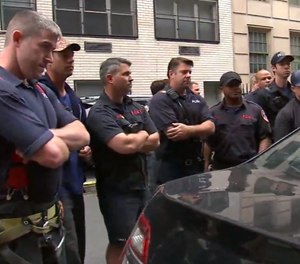 Johnson walked out of the precinct in cuffs and was met with a line of stern faces of FDNY firefighters.
Damir tells the ABC7 reporter that he was merely protecting his friend, who he said was attacked first by the off-duty firefighter.
The firefighter, who has not been identified, is recovering from a mild concussion, five broken teeth and 25 stitches. He had tried to stop a group of teens from harassing an elderly couple, police said. 
Johnson allegedly came up behind the man and punched him in the back of head and then stomped on him while he was on the sidewalk. 
NYPD tweeted out news of the arrest and thanked the firefighter:
"We thank him for his actions and wish him a swift recovery," police said in a tweet.
ABC7NY reported that Johnson was turned into police by his own mother. 
"The New York Fire Department is like a family. You hurt one of us, you hurt all of us," Uniformed Firefighters Association President Gerard Fitzgerald told the news station.