Fire cameras prevent over 50 fires in Lake Tahoe
AlertTahoe, a program that uses a network of sensors to keep Lake Tahoe safe from natural disasters, has detected more than 50 fires in recent years
---
By FireRescue1 Staff
SOUTH LAKE TAHOE, Calif. — A program that combines technology and firefighting has prevented over 50 fires in recent years, according to officials.
Tahoe Daily Tribune reported that AlertTahoe, a program that utilizes a system of sensors to detect wildfires and other natural hazards, has stopped the fires before they reached "one acre in size," according to Tahoe Prosperity Center CEO Heidi Hill Drum.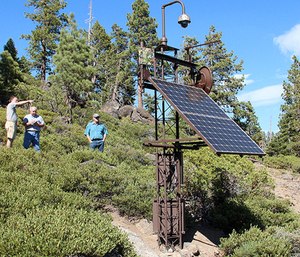 "This is important because it means our local fire agencies were able to get to these fires quickly and put them out before they caused loss of life, property damage and environmental and economic harm to our region," Drum added.
The sensors come in the form of 13 cameras that are installed around the Tahoe Basin and are connected through a network even when there are outages or emergencies. The cameras detect smoke and alert firefighters before they can spread further.
In 2015, AlertTahoe was significantly successful in accruing early intel during a "dry" lightening storm. The system and a similar one, the Nevada Fire Camera program, were involved in over 25 fires, in the summer of 2016 alone. 
The Nevada Seismological Laboratory launched a campaign in 2015 to raise $2 million to add 17 more cameras to the region, as well as associated telemetry infrastructure, and a user-friendly web portal for both responders and curious civilians. 
The program was created by Tahoe Prosperity Center and the University of Nevada, Reno and is now expanding to other states in the area after seeing success.