Ga. FD receives new high-tech fire trucks
One of the two new fire trucks will replace a ladder truck that will be maintained as a reserve truck, giving the fire department one additional vehicle for regular use
---
Alan Mauldin
The Albany Herald, Ga.
ALBANY, Ga. — Like most everything else, the simple old fire truck of your granddad's day has gone high-tech.
From a remote-control ladder mechanism to exterior storage of turnout gear to protect firefighters from contamination, two new Albany Fire Department trucks are a far cry from those of even just a few years ago.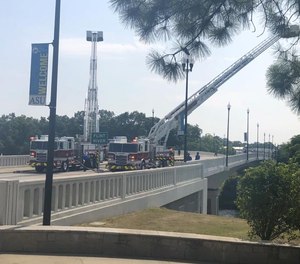 Each of the new Pierce ladder trucks cost about $1.2 million, not counting the equipment that goes on board, said Matt Cirullo, equipment repair technician for the department. Much of the equipment needed to completely outfit the vehicles, such as axes, bolt cutters and fans used to remove smoke from buildings, was already on hand.
The trucks were dedicated at a Wednesday-morning ceremony in downtown Albany. One will replace a ladder truck that will be maintained as a reserve truck, giving the fire department one additional vehicle in regular use.
The remote control, which allows a firefighter to control the unit from the ground, has a camera and allows the controller to operate all functions, including the fire hose, from up to a half-mile away, Cirullo said.
Inside, the "all-clean cab" prevents personnel from being exposed to the burnt chemicals and substances that can cling to the protective gear they wear at fire scenes, Cirullo said. That equipment is stored in a panel outside the cab.
"I think we're the first ever in south Georgia to have that" type of truck, he said of the department, which has about 170 firefighters at 11 stations. That includes four stations in greater Dougherty County that are owned by the county and staffed by Albany personnel. "It's as high-tech as you can get right now."
———
©2019 The Albany Herald, Ga.
McClatchy-Tribune News Service