Last smokejumper of deadly Mann Gulch wildfire dies
Robert Sallee, 82, died from complications following open heart surgery; the 1949 wildfire killed 13 smokejumpers
---
The Associated Press
SPOKANE, Wash. — Robert Sallee, the last survivor of the Mann Gulch wildfire in Montana that killed 13 firefighters, has died.
Sallee, 82, died Monday from complications following open heart surgery. His death was confirmed by the Hazen & Jaeger Valley Funeral Home, which is handling arrangements.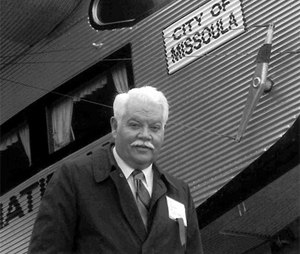 Sallee was a 17-year-old smokejumper, youngest on the crew that parachuted to the 1949 wildfire in Montana's Helena National Forest. They were caught on a mountainside when the fire suddenly blew up, cutting off their escape route.
He later gave interviews to Norman Maclean for his book, "Young Men and Fire," and talked to manyfirefighting groups about the tragedy.
The Mann Gulch fire was reported on Aug. 5, 1949. A team of 15 smokejumpers parachuted into the area that afternoon, meeting up with a man employed as a fire guard at a nearby campground. As the team approached the fire, high winds caused the blaze to suddenly expand. It cut off their escape route and forced the firefighters to move uphill.
During the next few minutes, a "blow-up" caused the fire to quickly grow by 3,000 acres, claiming the lives of 13 firefighters.
Sallee and two other smokejumpers survived.
The other two survivors were R. Wagner Dodge, who died five years after the fire from Hodgkin's disease; and Walter B. Rumsey, who died in an airplane crash in 1980. Rumsey and Sallee survived by climbing to a rock ridge. Dodge survived by setting an escape fire and then lying in the ashes.
As a result of the tragedy, the U.S. Forest Service designed new training techniques and safety measures, and increased its emphasis on fire research and fire behavior. The agency each year marks the anniversary of the fire.
Sallee continued to work as a smokejumper for another year. He later worked in the paper mill industry.