How to build a fire family to foster VFD recruitment and retention
Bringing back family-focused values may be the enticement prospective members seek – or the glue that holds together the organization
---
For generations, the local fire department was the cornerstone of our communities and provided a way for citizens to give back and help their fellow community members. But the modern volunteer fire service is facing declining volunteer interest and challenges in retaining members.
In our region, many rural fire departments are seeing an aging volunteer member population and a decline in attracting newer younger members. In addition, many volunteer leaders are seeing an increase in individualism and a lack of community pride, at least when compared to previous generations.
So, where does family fit into the challenge we are experiencing today?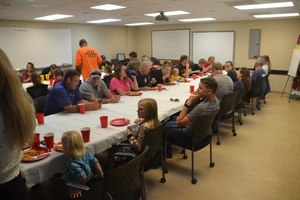 Then and now: Family time and tech time
Over the last 50 years, advancements in technology have created a dramatic shift in society. In the 1970s, most households had one TV, the phone was tethered to the wall, families sat down for dinner together, and the only news source was the evening news or the local newspaper.
Your family became your support group, your entertainment and your vision for the future. Many sons and daughters followed the model set by their parents. This was certainly true for the fire service, which benefited from the multiple generations of families that continued to cycle into the profession.
Fast forward 50 years: Many households are inundated with distractions – multiple TVs and gaming systems, cell phones that never leave our sides, and immediate notifications of local, national and international news. Many families simply don't have time for shared meals amid the myriad other extracurricular activities – or they don't prioritize family meals due to competing distractions.
Did these technological advancements further the decline in fire service volunteerism? More importantly, how can we bring back the family-focused connections to help strengthen our local recruitment of volunteers?
The key is to make family a priority! Here are five ways volunteer organizations can prioritize the fire department family.
1. Create a family environment
The chain of command in volunteer fire departments should look more like the family hierarchy, generations of grandparents, parents, aunts, uncles, etc., versus chief, assistant chief, captain, etc. In the volunteer system, creating a family feel versus a militaristic feel will build an emotional connection that ultimately strengthens the family feel of the organization.
2. Break bread together
Many important family conversations occur around the kitchen table. If you have spent any time in a fire station, you know that an engine crew can solve the world's problems sitting around the kitchen table. Take advantage of this by creating fire family meals. A lot of good comes from bonding around food. For small volunteer departments, provide meals prior to training or business meetings. Give members the opportunity to share their day around a plate of spaghetti. Hold a monthly family meal or movie night for members and their families at the station.
3. Use technology to connect
While technology may have contributed over time to the decline in volunteerism, it can also be a great tool to help bring back the family feel in your organization. Back in the day, the phone system used to have "party lines" that connected multiple people. Today we can use social media to connect our members. Create a private Facebook page or SnapChat group, for example, to connect your members, and assign two or three members to manage the accounts. Be intentional with messages and branding. Share events and stories, and connect daily.
4. Demonstrate value through incentives
Build value into being a part of your local fire department family. Partnering with local business to provide discounted meals, movie tickets and similar benefits is a great way to build family value and create incentives for your members.
5. Be present
Families come together for important events, like birthdays and graduations. The fire service should be present in your community and with your members in the same way. Show unity with your community by having the fire department and its members present at the local high school graduation or Friday night football game. Create opportunities for your members and apparatus to be a part of the community weekly or monthly.
This may be just what volunteers want
As many fire departments continue to see aging membership and a decline in recruitment, the fire service should take the opportunity to reinforce the value of a fire family. Bringing back some of the family-focused values that are often sidelined in today's faced-paced world may be the enticement that prospective members are seeking – or the glue that holds together the organization amid the many distractions and competing options for members.