Firefighter's high school sweetheart recalls tragedy, loss and support
Katlyn Mitchell was pregnant with firefighter Jeff Buck's son when he was fatally injured during a porch collapse in a house fire; he never got to hear the news that he was having a son
By Katlyn Mitchell
I was sitting in class at school and got a text alert that there had been a fire in Clearfield Borough.
I wasn't worried, though, because Jeff's fire department didn't usually get called to those fires.
So I didn't text him to be careful. I didn't say I loved him like I always did.
I just continued on with my next class.
At the beginning of class, I got on Facebook and read that three firefighters had been trapped in a house fire.
After texting Jeff and not getting a reply, I knew he was there. I started to freak out more than what I already had been.
I was half-way paying attention to my school presentations, but I had so much more on my mind making sure my firefighter was OK.
I texted my brother, Brett, to ask if he had heard anything and his reply was one that I was not expecting.
"It's Jeff," he said.
He told me Jeff's brother was the one who told him. I instantly texted Jeff's brother to tell me what he knew.
"I'm sorry," he said. "I should have been watching him."
Longest ride to my house
Jeff Buck was a senior in high school and only 18 years old when he died. He worked with the Lawrence (Pa.) Township Fire Company and responded to a three-alarm house fire on March 3. A porch collapsed and trapped him and two other firefighters. Six days later, he died of his injuries.
Jeff and I had met playing T-ball when we were 5 years old. We never really talked again until I was in 7th grade. We dated, but things didn't work out. But from there on, we were the best of friends.
We finally started dating again in August 2014. At the time of the accident, we had been together for just over six months.
And on that dreary March day, I walked out of class and almost ran one of Jeff's fellow firefighters over leaving to go to my house.
That was the longest ride to my house.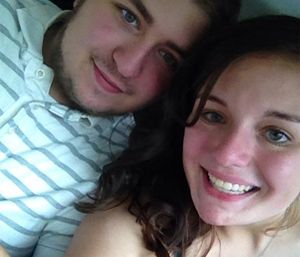 I had to go through detours to get to my house, because the way I usually went was blocked by fire trucks and cop cars. The fire that Jeff responded to was right behind my house.
To this point, I still had no a clue how bad everything was.
I went to the hospital and my boss at the time, who also worked EMS, was waiting for me and gave me a hug crying.
All I wanted to do was go see Jeff. I thought he'd be able to talk, but that wasn't the case.
Those six days were the longest, hardest days of my life.
He didn't just leave me
At the time of Jeff's accident, we were expecting a baby boy in July.
But he never got to hear the news that he was having a son.
If Jeff was still here today, he would be in awe over his son. He was amazing from the time I found out I was pregnant. He always talked to my stomach and cuddled with it.
I see so much of Jeff in our son, Landen.
They are basically twins. His looks, the way he acts, even his love for fire trucks already is all the same as his daddy's.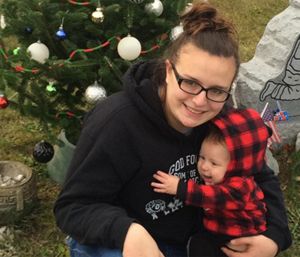 Even though Jeff is no longer with us, I still keep in touch with everyone at his department. They welcome us to the firehouse whenever we want to come. I even have Jeff's key to the firehouse in case I would need to get something or just hang out.
They took us in as part of their family.
And not only Jeff's firefighting family, but firefighters from all over came together to help raise money for Landen and I to help with anything we may need.
I won't ever forget the dinner after the funeral.
Jeff's chief and everyone from the firehouse came over and surrounded me.
I was so confused.
They handed me a firefighter shadow box and it had a picture of Jeff in the top. That's when they told me that I would always be a part of their family.
Never imagined it would happen to me
Since we were young, Jeff had always talked about how much he loved being a firefighter. I had always realized this, but until we started dating, I never actually realized his true passion for the fire service.
There were many times we would leave in the middle of eating or sleeping to go to the firehouse so he could run calls. It was annoying at the time, but I now wouldn't change those memories for the world.
I always accepted the fact that he was a firefighter and wasn't going to make him change for me.
It was something I always worried about, as I'm sure all firefighters' significant others do, but I never imagined it would happen to us — let alone in our town, to my firefighter.
I can't say I'm doing amazing, but I can't say I'm doing horrible. Some days are harder than others; I have learned to accept that.
I know when I'm having a really bad day that I have many friends I can talk to. Our son also helps me stay focused on everything in life.
I always try to talk to him about who his dad was or just make small talk about Jeff. He doesn't understand yet, but when he's older I will go into more detail. There isn't much a 4-month-old can understand about what happened.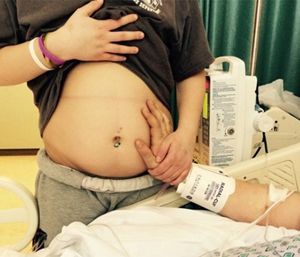 One thing I will make sure to tell him is how loving and caring his father was toward everything and how amazing of a person he was.
Something I always think about is advice I'd give a widow of a fallen firefighter. And all I can say is — never forget the memories. Ever.
Enjoy the time you had together and don't dwell on what happened. Even though that part never leaves your mind and you replay it all the time, try to think of the positive parts of your lives together.
Find people who were close to them, and if they are willing, share memories — good or bad.
You could end up being surprised about what you find out. It could brighten your spirits a little more.
And just take a lot of pictures, make a lot of memories and enjoy the little things in life. You never know when something like this could happen.