Fighting fire with dad, playing golf with Tiger: Matt Parziale's big year
A firefighter from Brockton, Mass., made his PGA debut at the U.S. Open before competing in the Masters in Augusta
---
Throw the game-winning pass in the Super Bowl. Hit a walk-off in the major leagues. Play the front nine at Augusta with Tiger Woods. For firefighter Matt Parziale, that last dream became just one of many remarkable footnotes in a year in which he got married, moved into a new home and played a round with the man himself amid the azaleas.
Parziale developed a love for golf at a young age. He was just three or four when his father, Victor, started bringing him up to the Brockton fairgrounds to hit balls. "We did that for a couple of years, and then we started playing on the course together, before I started to play in some local tournaments," he recalled.
Already an avid fan, Parziale was nine years old when Woods won his first Masters in 1997. "Just watching him try to improve every day and compete, that's kind of what made me fall in love with the competition and really made me drive to get better," he noted.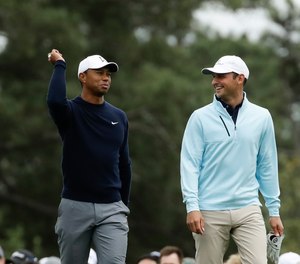 Parziale's golf career took a turn when he won the 2017 U.S. Mid-Amateur tournament, which earned him an invitation to the 2018 Masters Tournament as well as a congratulatory letter from Woods. As the Mid-Am Champion, Parziale played a practice nine in Augusta with Woods, who he describes as "so much fun to be around. He was always telling jokes, we were laughing. He was great."
Though Parziale ultimately missed the cut at the Masters, he was able to compete again at the 2018 U.S. Open, where he tied for 48th place as well as the low-amateur for the tournament.
From fighting fire to the U.S. Open
Another tradition Victor Parziale passed down to his son is firefighting. The younger Parziale grew up around the hometown station where his father served as a captain in the ISO Class 1 Brockton Fire Department, the busiest department in Massachusetts per capita.
The father-son duo worked together for about five years before Victor retired, and even fought a fire together.
"It probably wasn't the best fire we've ever had, but it was a good one," Parziale recalls. "We were there all night. That was in a winter where we got about six feet of snow in a four-week period. So it was hard to find water. I was on the first-in company, and he was on the second. He got there pretty quick. We had a blast together. So that was a fire I'll never forget."
The two shared another special memory when Victor caddied for Matt at the U.S. Open over Father's Day weekend.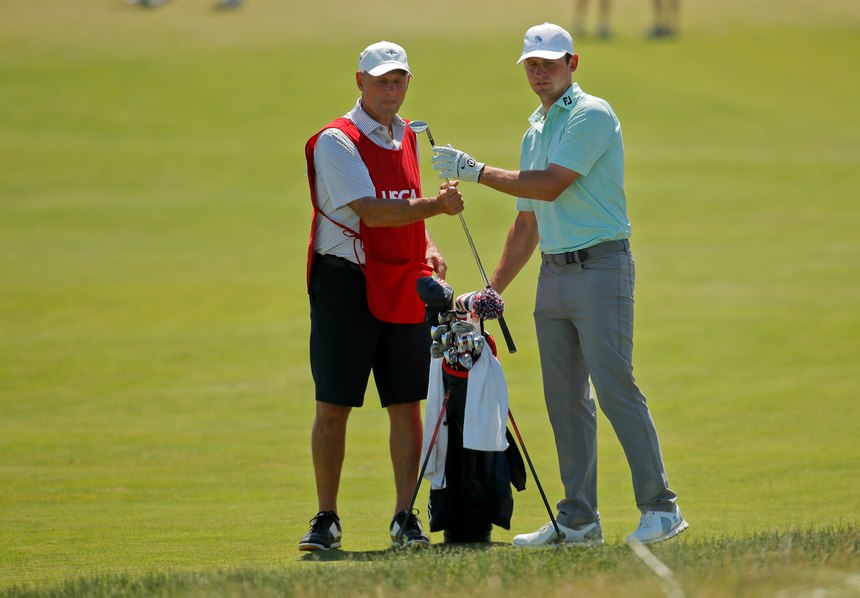 Parziale also has his chief, Michael Williams, and the Brockton Mayor, Bill Carpenter, in his corner, who were supportive of his leave of absence from the department, as well as his fellow firefighters, many of whom traveled to New York and donned their helmets in support to watch him compete. "It is really cool to see a few of those guys out there," he related, "and even firefighters all over the country are reaching out."
There aren't too many similarities between firefighting, where "you're with a team and anything can change at any moment," and golf, where, "on the course, you're out there by yourself and you're in control for the most part," Parziale said. "But it's a good balance to have both aspects in my life. I'm fully engaged in both moments."
Competing to play for the Walker Cup
When you ask Parziale about his favorite course, he notes he's been fortunate to play so many of the greats, listing Cypress Point (Pebble Beach, California), Shinnecock (Southampton, New York) and Sand Hills (Mullen, Nebraska) along with Augusta. But his favorite? Old Sandwich, "back home" in neighboring Plymouth, Massachusetts.
Parziale is all about the process, more than the results. He told me he never expected to come this far, but that's the reason he's put so much work in, is for these opportunities.
"I just always enjoyed trying to get better and trying to compete at the highest level," he said. "I don't have many goals. But I think beyond goals, you want to do the best you can. So I just work hard and strive to do that."
And it's working. This month, Parziale was invited to join 15 other hopefuls at a practice session at Seminole Golf Club in Juno Beach, Florida for a chance to join the 10-man 2019 Walker Cup amateur team who will compete at Royal Liverpool in Hoylake, England. Hopefully, we'll be seeing more of him on the national stage.