Top 10 heartwarming firefighter stories of 2018
From finishing a pizza delivery to standing in for a hurt colleague at a graduation ceremony, firefighters performed some pretty great acts of kindness this year
---
By Shelbie Watts, FireRescue1 Editorial Assistant
Aside from heroically battling blazes and rescuing people from dangerous situations in 2018, firefighters also used their time to perform some pretty great acts of kindness in an effort to bring happiness to others.
From comforting a scared child to finishing a pizza delivery, here are the top 10 heartwarming stories from the fire service in 2018.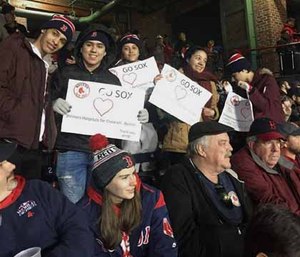 10.  Fla. firefighters repair roof damaged by hurricane
About a dozen firefighters spent $3,500 of their own money to repair the roof of a home that was heavily damaged by Hurricane Irma after firefighter Felix Marquez noticed the disrepair when he went to the home to install a free smoke detector.
9. First responders surprise young hit-and-run victim with new bike
Firefighters, EMS providers and police officers in Youngstown, Ohio showed up in fire trucks, ambulances and cruisers to deliver a new bike to 8-year-old Jenciel Filero, whose own bike was destroyed when he was hit by a vehicle.
8. Firefighters donate patch collection to girl with cancer
Green Bay Metro Fire Department firefighters, who had collected 400 patches from all over the world, delivered their collection to Mileena Painter, who is battling leukemia.
7. First responders finish man's yard work after he suffers heart attack
A crew from Hudson, Florida, responded to a call about Gene Work, who had a heart attack while laying sod in his yard. After rushing Work to the hospital, the crew returned to his home and helped lay the rest of the sod.
6. Firefighters stand in for hurt colleague at son's graduation
Gautier, Mississippi, firefighters took up an entire row of seats at a George County High School graduation to stand in for their colleague, Lt. Dan Kauppi, who could not attend his son's graduation because he was in the hospital after being seriously injured in a vehicle crash.
5. Firefighters finish delivering pizza after driver is hurt in crash
Henrietta, New York, Fire District firefighters who responded to a pizza delivery driver's vehicle crash made sure the customers got their food in time by delivering the food themselves after making sure the driver was cared for and loaded into the ambulance.
4. Viral photo shows fire captain comforting child after call
A photo of Chattanooga Fire Department Captain Chris Blazek leaning against a car holding a young girl who was in a vehicle that crashed went viral after he "decided to sit and take a break" with his "new friend" to stop her from crying.
3. Fallen firefighter's son rides to first day of school in fire truck
Cooper Brooks was escorted to his first day of kindergarten by the colleagues of his father, Tennessee firefighter Christopher Brooks, who died in May from injuries sustained in a motorcycle crash. Christopher had wanted Cooper to get the experience because his own father had taken him to his first day of school the same way.
2. Firefighters throw 3-year-old birthday party after guests cancel
The Harrisburg Fire Department in North Carolina rescued 3-year-old Jackson's birthday after seven of the eight families invited were unable to attend his birthday party due to Hurricane Florence by throwing him a surprise celebration at the fire station when he and his mom came to visit.
1. Firefighters donate World Series tickets to child burn victims
The Boston Fire Department donated five World Series tickets, donated to them by UFC fighter Conor McGregor, to patients at the Shriners Hospital for Children so that they "could be used in a bigger fashion."