FDNY Capt. Michael Lyons, World Trade Center hero, dies from 9/11-related illness
Lyons helped rescue a man trapped in the rubble of 9/11 and reunited him with his pregnant wife
---
Leonard Greene
New York Daily News
NEW YORK — A firefighter who helped rescue a man trapped in the rubble of 9/11 and reunited him with his pregnant wife has died from an illness he developed while working the Pile at Ground Zero.
Retired FDNY Capt. Michael Lyons, 53, who suited up for more than 20 years, became the 276th firefighter to succumb to a 9/11-related illness when he died Tuesday after a battle with cancer, a department spokesman said.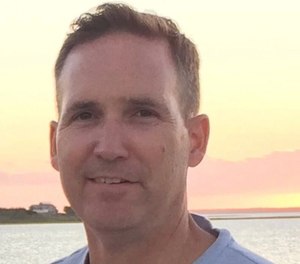 That's on top of the 343 firefighters who perished when planes hijacked by terrorists crashed into the World Trade Center on Sept. 11, 2001, and reduced the twin towers to rubble.
When Port Authority engineer Pasquale Buzzelli miraculously survived the collapse of the North Tower, Lyons and a crew of firefighters creatively and carefully pulled him out of the teetering wreckage.
Buzzelli's wife would give birth to a daughter — Hope — just weeks later, and he was eternally grateful to Lyons and the others involved in the rescue.
"He saved my life on 9/11, and we've been friends ever since," Buzzelli said. "My kids love him. He was an amazing person."
Buzzelli, 52, said he talked with Lyons about three weeks ago, and could tell his friend was struggling — but even so, wasn't giving up.
Lyons started his career in Engine 228 Brooklyn. He worked in Engine 59 in Manhattan, Ladder 153 in Queens and Ladder 148 in Brooklyn, retiring as a captain in 2019.
"Mike was cited for many acts of heroism throughout his career including a miraculous rescue at the WTC site days after 9/11," the Uniformed Fire Officers Association said in a statement. "A tragic loss to our department and to our brotherhood."
Lyons' brother, Jim, said Lyons had always dreamed of being a firefighter.
"He loved his job, everything about it," the brother said. "He enjoyed helping people and everything that goes with it. No regrets about it."
Even after Lyons developed the cancer that progressed and took his life, he was at peace with the path he chose — and the rescue and recovery work he did at Ground Zero.
"It was a day that he would never forget," Jim Lyons said of 9/11. "He was there when the second tower came down. He spent days there before he returned to his home in Brooklyn. He was there for a couple of months after it happened."
Lyons' bravery in the field was matched only by the courage he displayed while dealing with his illness, department officials said.
Lyons was a frequent contributor to several FDNY publications, writing about his own battle with Stage 4 cancer and offering advice and encouragement to fellow firefighters.
He is survived by two children; his parents, his brothers, extended family and friends.
A visitation is scheduled for Sunday from 2 p.m. to 4 p.m. and from 7 p.m. to 9 p.m. at M.A. Connell Funeral Home on New York Ave. in Huntington Station, L.I.
A funeral is scheduled for 11 a.m. Monday at St. Elizabeth of Hungary Church on Wolf Hill Road in Melville.
Buzzelli was on the 22nd floor of the North Tower when he rode a small patch of concrete flooring down another 18 stories, suffering just a broken leg and ankle. He is stunned by the toll the tragedy is still taking on the city.
"The FDNY is still getting devastated," Buzzelli said. "I'll never forget it, and I hope others don't forget what happened that day. You can never move on if you were that closely involved in it."
---

9/11 Reflections
Personal stories from September 11, 2001
Reflections on the 20th anniversary of 9/11 and the impact on the fire service.
---
©2022 New York Daily News. Visit nydailynews.com. Distributed by Tribune Content Agency, LLC.
McClatchy-Tribune News Service