Son of firefighter killed on Sept. 11 joins FDNY
Aric Tegtmeier said he was inspired by his father's sacrifice and wanted to continue his legacy
---
By FireRescue1 Staff
NEW YORK — Inspired by his father's sacrifice on Sept. 11,  a young man is following in his footsteps and has joined the New York Fire Department. 
 
Aric Tegtmeier, 21, said he wanted to continue his father's legacy; he graduated from the FDNY EMS Academy Wednesday. Prior to joining the academy, Tegtmeier had served as a volunteer firefighter at the Roosevelt Fire District since he was 16. 
Tegtmeier's father, Paul, was a longtime volunteer firefighter before joining the FDNY. His wife, Cathi, said Tegtmeier was on his way to the station when he witnessed the first plane strike the World Trade Center. She said her husband is to believed to have died in the second tower; his body was never recovered.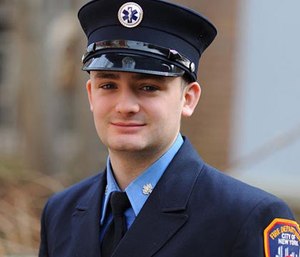 "It's some big shoes to fill. It was definitely a passion of [my father's]. It's a passion of mine," Aric Tegtmeier told the Poughkeepsie Journal.