Ind. FD ambulance crew gets transplant patient to hospital just in time
A Bargersville Fire Department ambulance became available just in the nick of time to escort Sara O'Daniels to receive a new liver and kidney
---
By Leila Merrill
BARGERSVILLE, Ind. — Sara O'Daniels got the call she needed last week.
After waiting more than six months, a new kidney and liver were ready for her; she had one hour to get to University Hospital in Indianapolis.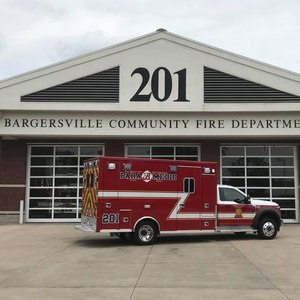 But O'Daniels' home was an hour and 20 minute-drive away, plus, as her husband, Patrick told WTHR, "it's raining and nasty."
The couple called 911.
With their kids in the minivan, the pair hoped dispatchers could help them get an emergency escort. At first, dispatchers in two counties could not help because crews were busy with storm-related work.
Then a Bargersville Fire Department ambulance became available, and a dispatcher called the family back with the plan.
"Basically, we had enough time to turn around, back the ambulance in and within two to three minutes, the family was pulling into the parking lot really. They quickly ended up parking right out here and then everybody jumped out of the van. It was great to see just the excitement on their faces. They knew they'd made it to the firehouse," said Bargersville Fire Chief Eric Funkhouser.
Firefighter-paramedics transported Sara and her family in the nick of time.
"It all worked out, and God was with us the whole time. He really, you know, paved the way for us and allowed us to, you know, just fall into the right hands the whole night," Sara said. "When I got into the ambulance, I had 30 minutes, 28 minutes. She says, 'It's gonna be loud. We're running lights and sirens. We're going to get you there as quick as possible.' You're getting a little scared, a little stressful and we're just flying through."
And Sara's transplant procedure was a success.