Increasing sensitivity to firefighter PTSD
Educating friends about firefighter PTSD can prevent innocent questions that can undo years of mental health work and progress
---
By Lieutenant Robert Hiller, contributor to In Public Safety
There have been many discussions and studies in recent years about the effects on first responders of long-term exposure to trauma and high levels of stress. After years of service, firefighters and EMTs often suffer from both acute and chronic post-traumatic stress disorder. The fire service has taken significant steps to help firefighters deal with trauma and PTSD.
When I started in the fire service 22 years ago, the prevailing methodology of dealing with a bad incident was to tell colleagues to "suck it up, buttercup" or a similar sentiment. Such a message led many firefighters to harbor horrible thoughts, memories and visions that often led them to self-medicate through drinking or drug use. In the most extreme cases, troubled individuals resorted to suicide.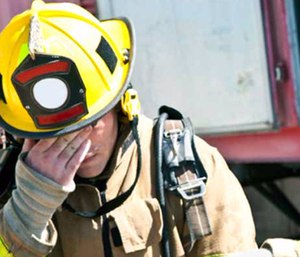 Today's fire service has started to recognize PTSD and mental stress
Thankfully, the modern fire service has started to recognize the mental toll that a bad call – or more often, years and years of bad calls – has on firefighters. Many departments nationwide now offer after-action debriefings, critical incident stress management and access to employee assistance programs (EAPs) or counselors to help firefighters process the event. These resources help firefighters move a traumatic incident from being constantly on their minds to the back of their brains, where it remains as just a bad memory.
The national fire service has also taken significant steps to address PTSD and trauma. For example, the National Fire Protection Association (NFPA) now has a provision in its codes and standards that addresses PTSD. The National Fallen Firefighters Foundation has a similar provision.
In addition, there are now far more counselors and psychiatrists who specialize in treating first responders, public safety professionals and military personnel who suffer from PTSD. All of this assistance helps firefighters and first responders recover and become more resilient.
Re-living firefighter trauma
Although there has been a good deal of progress in mental health recognition and assistance in the fire service, there's one common scenario that almost every firefighter has encountered that is likely to cause them to relive their trauma. This scenario usually occurs in a social setting.
How many times have you been at a party or out with friends and you are introduced as, "This is my friend, he's a firefighter"? It seems like an innocent enough introduction and a good ice breaker to give the new person a way to start a conversation, but the questions it often elicits can be quite damaging. People often start very innocently by asking, "Why did you want to be a firefighter?" or "How long have you been doing this job?" Then comes the question I dread the most: "What's the worst call you've ever been on?" or "What's the worst thing you've seen on the job?"
Asking such a question causes firefighters to relive a terrible event, possibly damaging the mental work they've done to recover from it. When I am asked these questions, the first thing that comes to mind is an incident early in my career when I was told to "suck it up."
I've never forgotten that call, the details of that day or the victims. Even after 22 years, I recall the name of one of the patients I treated that day. I remember how hot that day was. I can remember my shock at seeing several people with injuries as we arrived on scene. I remember riding to the hospital in the ambulance and I remember some of the last words the emergency room doctor said to him.
It's taken me years to work through this horrible event and make it a distant memory. But those simple, innocent questions force unpleasant memories to resurface and also undo years of work to deal with the trauma and PTSD caused by an incident.
Educating friends about firefighter PTSD
I'm not trying to throw blame on others for asking such questions – many people do it very innocently – but it's important to educate them about this scenario. Our friends know what PTSD is. If you ask them, they will gladly explain it along the lines of something that soldiers have when they come back from war. They would never ask a soldier friend a question about the worst thing that person ever saw or if they killed anyone. At least, most people I know would never do that.
But, most people don't know that PTSD is as common among firefighters and first responders as it is among the military. They also don't know that the attempted suicide rate among firefighters is 10 times higher than that of the general population. This lack of awareness means that most people aren't sensitive to these issues when talking to first responders.
It is our responsibility as firefighters and first responders to share information about trauma and PTSD with our friends and associates. Let them know that sometimes we have trouble dealing with tragic calls. Post it in your social media and talk frankly to your friends about it.
And if you are dealing with PTSD, get help. It's out there and more available than ever before.
The next time someone asks you about your worst day on the job, don't feel bad about telling them that you've seen a lot of worst days and you'd rather not talk about them.
Instead, focus on the funniest or weirdest call you've ever been on. It's better for you and probably makes for a better story.
About the author
Lieutenant Robert Hiller has been with the Cobb County (GA) Fire Department for 22 years. During his tenure, he has served on both the HazMat team and the squad. He studied history and psychology at Georgia State University and fire science at Chattahoochee Tech. Hiller was first introduced to mental health problems in family members in the early 1980s. He has since been dealing with problems of depression and anxiety of his own since the early 1990s. One of his pasttimes is working with his four therapy dogs and taking them to visit special-needs schools, children's hospitals and nursing homes. He is currently working on certification for one of his dogs to be a CISM response dog and hopes to be able to assist local departments, if called upon. To contact the author, email IPSauthor@apus.edu. To receive more articles like this in your inbox, please sign up for In Public Safety's bi-monthly newsletter.