Kitten survives half-hour ride in fire truck's spare tire
The firefighter did not notice the kitten until he got to his destination and heard meowing; the firefighters found the kitten under the truck
---
By Jerry Fallstrom
Orlando Sentinel
CLERMONT, Fla. — The 7-week-old kitten had a nice quiet refuge, nestled inside a spare tire beneath a truck.
Then Clermont firefighter Robert Lovvorn, who had been in Orlando, left for the half-hour ride Wednesday to his job at Clermont Fire Station 3 on Legends Way. He was unaware he had a four-legged passenger, but after he arrived Lake County Emergency Medical Services paramedic Bubba Pitzer heard meowing coming from under the truck.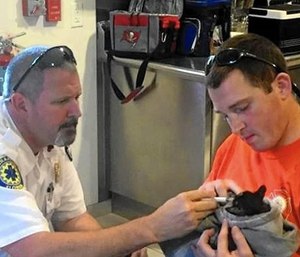 Firefighters sprang into action and soon extricated the fur ball from its perch. They took the kitten into the station, bathed it and fed her tuna fish and water through a syringe, according to Jessica Whitehouse, director of development for The Animal League in Groveland.
"She is very vocal," Whitehouse said. "She let them know what she was there."
Those at the fire station named the kitten Passon after a term firefighters use to "pass on" from one shift to the next. The Animal League picked up Passon and placed her in foster care in hopes someone will take adopt her.
"Not only are these first responders brave in the face of danger, but they also have a special place in their heart for animals," said Doreen Barker, Animal League executive director. "We are honored to have helped with this situation, which could have had a different ending had these first responders not taken the time to help this kitten."
She added that Passon "may have used up a few of her nine lives" through the experience.
Copyright 2016 Orlando Sentinel
All Rights Reserved