Top 5 famous animals-turned-mascots in the fire service
From the classic Dalmatians to rescued pets who were given a new life, here are the animals that made their way into the hearts of firefighters
---
By Shelbie Watts, FireRescue1 Editorial Assistant
Firefighters may run things around the firehouse, but sometimes it's the four-legged occupants that command attention and steal the hearts of staff and visitors alike.
Here are five furry friends that laid claim to firehouses, whether they live there or not, and stole the show by being the cutest, bravest or most unforgettable animals in the fire service.
Jake the "firefighter"
Ever met a dog with a fire department badge? Jake the pit bull was pulled out of a burning shed in South Carolina by Hanahan Fire Department firefighter Bill Lindler when he was just three weeks old, and the bond between the two was instant.
Jake, who had suffered third-degree burns all over his body, was taken in and cared for by Lindler, as well as the entire fire department.
Lindler's colleagues said having Jake around boosted morale.
"Even with all the burns, he was so happy and so friendly and it was just nice to have him around," firefighter James Durham said.
The mayor of the city, the fire chief and the city administrator were eventually charmed by Jake –enough to make him an honorary firefighter and the department's official mascot.
Flame the Instagram star
Firefighters helped a stray cat go from forgotten to famous after he wandered into a Belmont Fire Department station and never left.
Engineer Jordan Lide said he first discovered Flame wandering around the station while he and his colleagues were decompressing at the end of a shift.
"When we started to head in, I saw a small cat in the grass," Lide said. "So I started slowly making my way toward him, and he didn't run. He was extremely malnourished and skinny as can be."
Lide said "it was all over" when he began to pet the cat, and after he refused to leave, he was given his firehouse-worthy name and welcomed into the fold.
"He is unanimously loved at this place," Lide said. "A lot of the guys will even tell you, 'I'm not a cat guy, but Flame — he's just different.'"
Flame has now risen to Instagram fame with his account "Flame the Arson Cat," which currently has almost 88,000 followers.
Flame was even featured on the Animal Planet show "My Cat from Hell," but the firefighters seem to agree with host Jackson Galaxy, who said Flame was instead a "cat from heaven."
Jack and Jack
Before motorized vehicles, world champion horses Jack and Jack answered the call of duty on a daily basis by racing Des Moines firefighters to battle blazes. However, their running skills also shone through at state firefighter tournaments, where they consistently raced their way to the top. They were crowned "World's Champions" in 1904 at the Council Bluffs tournament and held the title for many years.
They were adored by fans at state fairs, and at one point, a campaign was started to exhibit the horses at New York City's Madison Square Garden.
After several years of service, Jack and Jack were pensioned by the city council.
"Jack and Jack are entitled to a pension if any fire department horses were ever entitled to one," councilman F.T. Van Liew said at the time. "They were quick and cool headed and a pet of the entire department. Usually worn out horses are turned over to the Street Department, but if I were to attempt to do that with Jack and Jack, the fire department would mob me. They say they don't want to see them pulling a junk wagon or ash cart."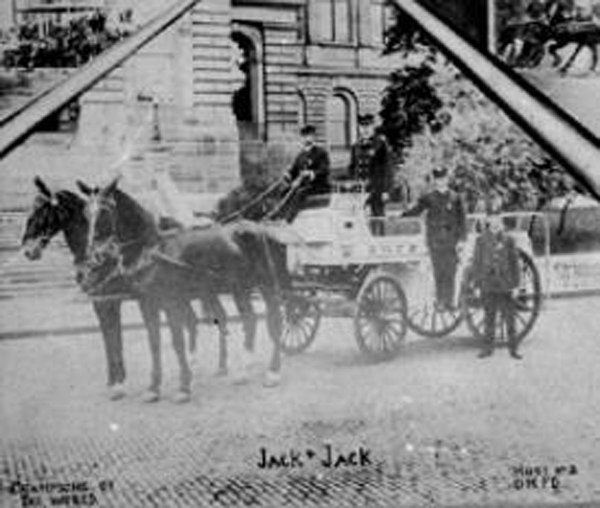 Twenty, the pillar of strength
Twenty was a beloved Dalmatian that joined the FDNY ranks shortly after 9/11 and spent the next 15 years as a pillar of strength and comfort for firefighters.
The Dalmatian was gifted to the fire department from two Rochester sheriffs, who offered their condolences to the station after seven firefighters died on the 35th floor of the World Trade Center's North Tower.
"She became our mascot and companion," Lt. Gary Iorio said in an emotional tribute to Twenty when she died in 2016. "She really helped to build the morale in the years following 9/11. I can't say enough about what she did to help us. She went on all the runs, she'd jump in the truck, stick her head out the window and bark. She became a local celebrity."
Do you have any beloved animals-turned-mascots at your firehouse? Let us know in the comments below.