Discarded cigarette causes $150K in damage to Calif. apartment
Four Santa Rosa Fire engines and a ladder truck responded to the blaze and brought the flames under control from a second-story balcony
---
By Kevin Fixler
The Press Democrat, Santa Rosa, Calif.
Several units in a large northwestern Santa Rosa apartment complex were damaged Saturday afternoon when a cigarette was carelessly discarded, fire officials said.
Four Santa Rosa Fire engines and a ladder truck quickly responded to the noon blaze that started in a second-floor unit on the 1500 block of Apple Creek Lane. Within minutes, firefighters brought the flames under control from a second-story balcony, keeping it from reaching other units.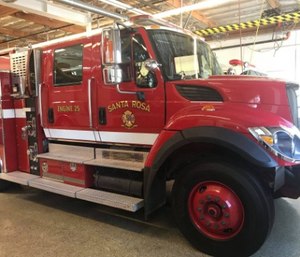 A woman, who said she wasn't in the apartment when the fire started, was evaluated for injuries but wasn't taken to the hospital. No other residents were hurt in the incident, according to the Santa Rosa Fire Department.
Additional apartments were damaged by smoke and water, and the engulfed unit and one below it were deemed uninhabitable, Santa Rosa Fire Battalion Chief Matt Dahl said. Total damage to the building was estimated at $150,000.
The American Red Cross and the complex's management team helped affected residents find other housing for the evening, though many chose to stay, Dahl said. PG&E restored utilities after the fire temporarily cut off power to several units in the building.
___
(c)2018 The Press Democrat (Santa Rosa, Calif.)