Boston firefighter killed when ladder truck crashes into building
---
By Russell Contreras
The Associated Press
BOSTON — A Boston Fire Department ladder truck coming down a hill plowed through an intersection Friday and crashed into a high-rise apartment building, killing one firefighter and seriously injuring a second.
Dozens firefighters bowed their heads and held their helmets over their hearts as they created a pathway for the body of one firefighter — covered in a black body bag on a stretcher — to be carried from the wreckage and put into an ambulance.
The truck was returning from a medical call when it barreled down the steep Parker Hill Avenue, went through the intersection at Huntington Avenue and slammed into the building, said Fire Department spokesman Steve MacDonald.
Lt. Kevin Kelley, 52, of Quincy, a 30-year veteran supervisor riding in the truck's front seat, died at the scene, MacDonald said. Another firefighter aboard had a broken leg and two others had minor injuries. He said another firefighter helping at the scene suffered a broken ankle.
Kelley was one of the firefighters featured on the Discovery Channel's 2005 "Firehouse USA-Boston" shows, following Ladder 26.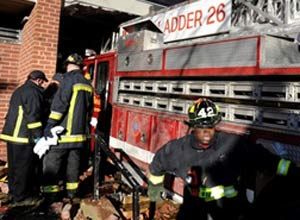 AP Photo/John Cetrino
Firefighters work to remove the body Friday.
The truck hit a section of the building where children were working in a computer learning center. MacDonald said four children were taken to hospitals with minor injuries.
Three firefighters taken to Beth Israel Deaconess Medical Center were in good condition, said spokeswoman Zineb Marchoudi.
Mehigan said five people not involved in the crash were taken to hospitals to be checked because of anxiety-related symptoms.
MacDonald declined to comment on the cause of the crash. He said the truck's maintenance records will be part of the investigation.
The accident closed part of Huntington Avenue — a major thoroughfare near Northeastern University and several of the city's major medical centers.
The truck struck two parked cars and a brick wall before becoming lodged in the building.
Danyelle Jones, 24, said she was throwing away trash on the eighth floor when she was nearly knocked over by the collision.
"I heard a loud boom and my back got all twisted up," she said.
The tall red brick structure is owned by the nonprofit Roxbury Tenants of Harvard, a housing and human service organization that was founded by residents of the neighborhood in 1969.
WHDH-TV and The Boston Globe reported the same ladder truck involved in Friday's accident was involved in a minor accident on Dec. 10, when the truck rear-ended a car at the intersection of Huntington and Longwood Avenues, causing minor damage and no injuries. The Globe reported, citing an unnamed city official, that an investigation found no problem with the truck's brakes then, and that the driver of the car was found at fault for cutting off the fire truck.
MacDonald declined to comment on the reports.