Ill. city FD raises money repairing trucks for other FDs
The department staffs three mechanics and hopes to hire a fourth with funds earned through the program
---
By FireRescue1 Staff
ROCKFORD, Ill. — An Illinois city fire department is generating revenue by offering truck repair services to other fire departments in the area.
The Rockford Fire Department said it has raised more than $100,000 since the program began in October, according to the Rockford Register Star, and that having three mechanics on staff helps them and nearby departments get their trucks repaired quickly without having to travel far.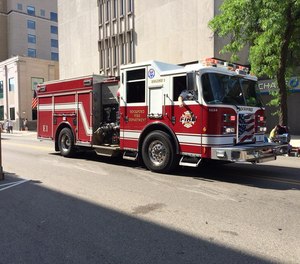 "We have the training and the expertise to work on pumps and aerials," Fire Chief Derek Bergsten said. "We are highly trained, certified and have that great turn-around time."
The department hopes to use some of the funds generated by the program to hire a fourth full-time mechanic to expand their repair shop's capacity.
The program also helps improve the city's financial situation after a 2018 consultation predicted future deficits. Rockford Finance Director Carrie Hagerty says the program has been successful so far.
"The fire departments we are serving are happy not only with the quality of the service, but also the quicker turnaround time and the lower cost as well," Hagerty said.