New $1.1M fire truck catches fire after hitting power line
South Portland Fire Department firefighters were training with a new ladder truck when they accidentally hit a power line with the aerial
---
SOUTH PORTLAND, Maine — A fire department's new $1.1 million ladder truck caught fire after it hit a power line.
Bangor Daily News reported that three South Portland Fire Department firefighters were training with the new ladder truck when its aerial struck a power line, causing the front right tire to catch fire, according to City Manager Scott Morelli.
The aerial's controls were also shorted in the fire, resulting in the firefighters' inability to move the ladder away from the power line.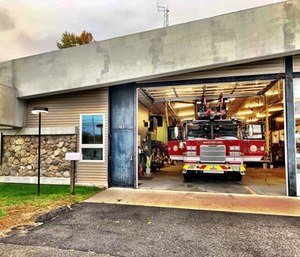 Morelli said Central Main Power Co. had to cut power to the street running alongside the fire station.
The blaze was immediately doused by firefighters, and city officials said they plan to work with engineers to determine how much the repairs will cost. The department will use an older truck in the meantime.
"The city is conducting an internal investigation as to how this incident happened, what steps need to be taken to prevent it from happening again, and any other actions that may need to be taken due to the seriousness of this event," Morelli said.
No one was injured in the incident.