Night-flying helicopters in high demand during Calif. wildfires
Only two helicopters in the region of where the Tubbs fire occurred are capable of flying at night and neither is equipped to drop water or fire retardant
---
By Jason Kotowski
The Bakersfield Californian
SANTA ROSA, Calif. — As the massive blaze surged into Santa Rosa, consuming virtually every structure in its path, authorities scrambled to get firefighting resources into place.
While Sonoma County emergency services and fire departments helped residents evacuate and did what they could to stop the spreading fire, the first helicopter to perform nighttime drops against the conflagration swooped in the following night -- and came from 300 miles away.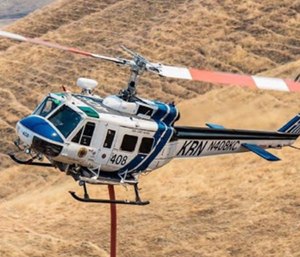 The Kern County Fire Department, as part of California's mutual aid system, sent one of its night-equipped helicopters to assist in the devastating Tubbs Fire, which ultimately killed dozens of people and burned 110,720 acres as it swept across Sonoma, Napa and Lake counties last month.
Only two helicopters in that region are capable of flying at night, both operated by the California Highway Patrol, and neither is equipped to drop water or fire retardant, the Los Angeles Times reported.
Kern has two Bell UH-1H helicopters, commonly known as Hueys, that are equipped for night flying and can perform operations such as water drops, hoist rescues and transportation of up to 11 people, including the pilot.
After the Cedar Fire chewed up hundreds of thousands of acres in 2003, killing 15 people and costing well north of $1 billion, agencies recognized certain policies had to change, and that included implementing night-flying helicopters, said Pat Williams, the Kern County Fire Department's chief pilot.
Under the FIRESCOPE program, a partnership representing local, rural, and metropolitan fire departments, the California Department of Forestry and Fire Protection, and federal fire agencies, guidelines were created for night flying.
Since then, a number of southern firefighting agencies, including those in Los Angeles, San Diego and Ventura, have invested in helicopters capable of night flight, Williams said.
And Kern, with its multitude of wildfires each year at different points across its 8,000 square miles, did the same. Through grants, it picked up two retired Army helicopters, a 1966 model and a 1967 model. Both are kept at the department's Keene station.
The helicopters have been upgraded with newer engines, transmissions and tail booms, and have been reinforced to handle the weight and stress that comes with carrying 360 gallons of water.
They travel at about 120 mph and can go about 90 minutes without refueling, Williams said. Kern brings its own fuel trucks when called out of county.
On massive fires like the one in Santa Rosa, they'll drop water all night long, Williams said.
In addition to the Northern California blaze, roughly 20 other fires outside the county occurred over the past year to which Kern brought a helicopter for night firefighting.
Because of that heavy use, the helicopters are taken in every 180 days for inspection, but over the past 10 years Williams said there's been no degradation.
"We have a full-time maintenance staff with us," he said.
And as important as it is to keep the helicopters in top shape, it's also important, obviously, for pilots to clearly see what they're doing. For that, they have night-vision goggles clear enough to see deer running through the woods even from hundreds of feet above.
Unlike models from decades ago, these goggles don't shut down in the face of bright light. Williams played a video taken from one of the helicopters showing flames -- and the screen still presents a distinct image of the surrounding area.
Deputy Chief Brent Moon said the aircraft have held up well, but they're looking to make some improvements. For one, the dashboard is the same as it was in the '60s. And only one of the helicopters has an updated water tank with lower-than-original wind resistance and the capability of gauging exactly how much water is left in the tank.
Among FIRESCOPE's recommendations, aerial night attacks should not occur before at least one of the following has been verified: lives are or will be threatened; structures are or will be threatened; resources of significant value are or will be threatened; excessively high suppression cost will be prevented.
While the technology has improved, the guidelines are in place in recognition that there is an element of danger to night-flying missions.
As a superintendent with the Kern County Fire Department, it's Val Linch's job to organize the mission and figure out the best way to complete it while minimizing its inherent danger. He plans the route, evaluates the risks, talks to those in charge on the ground and relays information to the pilot.
In effect, he solves problems regarding logistics and the handling of what can be a rapidly changing event, be it a wildfire or a hoist rescue.
Kern County Fire Chief Brian Marshall said the helicopters are an important asset -- not just in fighting fires but as what he called an "all-hazard emergency response department."
"We have to be ready to do anything at any time," he said.
Copyright 2017 The Bakersfield Californian