Bryx Inc. launches comprehensive real-time alert app
The free app connects responders with incident information on the scene and in the station
---
Bryx Inc. recently released its Bryx911 app, providing firefighters with real-time intelligence aimed to aid in incident response.
The app features real-time 911 alerts with information about location and scene intensity as well as navigation tools en route to the incident.
The app provides multiple ways for firefighters to connect with other responders and their respective stations. It allows users to report response status, see when and where other responders have arrived and listen to a department audio stream.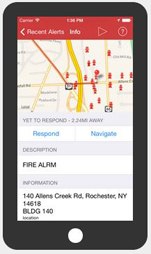 Bryx911 is designed to be used at the station as well, with features that let users monitor truck locations, audit responders' attendance to calls, view detailed call heatmaps and customize responses per user.
The app is intended for first responder use only, and requires a station chief registered with Bryx to add users to the approved access list. 
It is available for Android 4+, iOS7+ and WP 8+ devices.