2 firefighters killed in Va. fire truck crash
Chief among dead; neither firefighter was wearing a seat belt when the fire truck crashed into an SUV and flipped several times
---
By Amanda Codispoti, Jordan Fifer and Sheila Ellis
The Roanoke Times
ROCKY MOUNT, Va. — Two firefighters, including Fire Chief Posey Dillon, were killed when a Rocky Mount fire truck on its way to a house fire crashed into an SUV, flipped several times and landed on a car, state police, the town's mayor and a witness said.
Fire Chief and Vice Mayor Posey Dillon, along with firefighter William Daniel "Danny" Altice died in the wreck, according to Virginia State Police Sgt. Michael Bailey.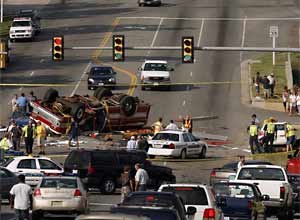 A Rocky Mount fire truck was eastbound on Old Franklin Turnpike in Rocky Mount when a Ford Escape coming from School Board Road entered intersection of the two roads and struck the engine, according to Bailey. The fire truck, responding to a blaze in Union Hall, swerved and flipped at least three times, Bailey said.
Bailey believed the weight of the truck, loaded with 1,000 gallons of water, shifted during the crash. The fire truck landed on its last flip on a blue Ford Mustang, which had been traveling westbound on Old Franklin Turnpike.
One person was removed from the fire truck and taken by helicopter to a hospital, said Wanda Bailey, a manager at the nearby Sheetz convenience store on Old Franklin Turnpike near Route 220 in Rocky Mount. Another person was pinned under the truck, she said.
At least two people from the wreck were transported to Carilion Franklin Memorial Hospital, according to Carilion spokeswoman Allie Buth. One person died on the way to or at the hospital, she said, and another was listed in stable condition. Buth declined to identify either person.
Buth was not sure if anyone had been airlifted from the scene.
"We lost two dedicated public servants in that accident," said Rocky Mount Mayor Steve Angle, confirming that two firefighters died in the collision. "Both were well-known and respected men in the community. It's a devastating blow to Rocky Mount." He would not name the firefighters who died, but said they were the only two on the truck.
It was not immediately clear how seriously the drivers of the Explorer and Mustang were injured, if at all.
"It's terrible. It's really, really bad," Wanda Bailey said. "Most of these firefighters come in here every day. It's kind of heartbreaking to us. We know them. They're basically like family."
"I heard a great big crash and we came outside," said Christy McKinney, 35, of Rocky Mount, an employee of Mattress Depot across the street from the wreck.
The intersection of Old Franklin Turnpike and Route 220 is blocked off while officials investigate, according to the Virginia Department of Transportation.
Republished with permission from The Roanoke Times.