9 feared dead following Calif. fire helicopter crash
---
The Associated Press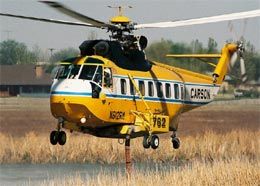 Photo Dale Stanton
A Carson Sikorsky S-61 Fire King, similar to one that crashed in California on Tuesday, fills up its water tank to attack wildfires in Texas in 2006.
JUNCTION CITY, Calif. — Eight firefighters and a pilot are presumed dead in the crash of a helicopter that had just picked up workers battling a blaze in a Northern California forest, officials said Wednesday.
The helicopter had lifted off from a clearing in a remote, rugged region of the Shasta-Trinity National Forest, said Jennifer Rabuck, spokeswoman for the U.S. Forest Service.
The aircraft was carrying 11 firefighters and two crew members when it went down Tuesday night in the Shasta-Trinity National Forest, according to the Federal Aviation Administration and the National Transportation Safety Board.
Four people were flown to hospitals with severe burns, including two in critical condition, according to the Forest Service.
The Sikorsky S-61N chopper was destroyed by fire after crashing "under unknown circumstances," said FAA spokesman Ian Gregor. FAA and NTSB investigators were headed to the scene, about 215 miles northwest of Sacramento.
Firefighters who were waiting to be picked up helped rescue the injured after the helicopter crashed around 7:30 p.m. and caught fire, Rabuck said. About three dozen firefighters had to spend the night on the mountain because it became too dark for other helicopters to land, she said.
Nine people, a co-pilot and eight firefighters, were still missing in the wreckage and presumed killed. Recovery efforts have been complicated by the remote location, and the wreckage is still burning, Rabuck said.
"It's difficult to access," she said. "It's very remote, very steep and heavily forested."
Three of the injured were at the UC Davis Medical Center in Sacramento on Wednesday; two were in critical condition and one was in serious condition, officials said. The fourth was in Mercy Medical Center in Redding in serious condition.
The firefighters had been working at the northern end of a fire burning on more than 27 square miles in the national forest, part of a larger complex of blazes that is mostly contained.
Some of the firefighters, including those in the hospital, were employed by firefighting contractor Grayback Forestry, based in Merlin, Ore.
Mike Wheelock, founder and owner of Grayback, said he was in Sacramento handling notification of families. He would not confirm any deaths.
The helicopter was owned and operated by Carson Helicopters Inc., a Pennsylvania company whose firefighting operations are based in Grants Pass, Ore. All 12 of the company's helicopters are being used for firefighting in Oregon and California, said Bob Madden, Carson's director of corporate affairs.
The helicopter's two co-pilots were Carson employees, Madden said; one was hospitalized and the other was among the missing.
"We are praying for the swift recovery of all the victims, and our hearts go out to their loved ones," Gov. Arnold Schwarzenegger said Wednesday.
Before Tuesday's crash, three firefighters had been killed while on duty in California this year, including one firefighter also assigned to battle the Shasta-Trinity blazes who was killed last month by a falling tree.
On July 2, a volunteer firefighter in Mendocino County died of a heart attack on the fire line. Another firefighter was killed July 26 in when he was burned while scouting a fire.
The helicopter crash that is believed to have killed eight firefighters Tuesday would rank among the deadliest incidents involving firefighters in the U.S. in the past 30 years.
Other notable dates involving firefighter deaths:
Sept. 11, 2001: 340 firefighters killed in World Trade Center attack.
July 6, 1994: 14 firefighters overcome by wildfire near Glenwood Springs, Colo.
July 23, 1984: 10 firefighters killed fighting oil refinery blaze in Romeoville, Ill.
June 18, 2007: Nine firefighters die when the roof of a burning furniture warehouse collapses in Charleston, S.C.
Aug. 24, 2003: Eight Oregon firefighters returning from a fire in Idaho die when their van collides with a truck outside Vale, Ore.