Challenges at Christmas
---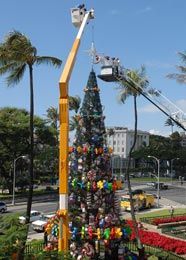 AP Photo/Ronen Zilberman
Demands on the fire service at Christmas come in many shapes and forms: Honolulu Mayor Mufi Hanneman is lifted by a ladder platform as he places the star atop a Christmas tree in Honolulu last year.
Well, the earth turns and time comes around, and next thing you know it's Christmas time again. I swear that as I get older, time appears to move faster. It seems as if I was only just paying off the tab for last year's Christmas and now here I go running up the next one.
This time of year impacts the members of the fire service in many different ways. There's the demand for fire trucks to deliver Santa Claus, not to mention the Christmas parties for kids. We bargain and trade with other firefighters for more shifts off to be with our families, while those individuals who balance their lives as volunteer firefighters have an even greater time impact during this season.
But there is a dark side to this time of year as well. Stress-related issues can cause a rise in call numbers, while the number of firefighter deaths often increase, according to NIOSH statistics and the latest firefighter death study by Kale et al in the New England Journal of Medicine in March.
Christmas impacts our customers in a number of ways as well. Do we take enough time to fully consider how these relate to our suppression efforts? Among the multiple causes of holiday-related fires are dried-out trees, increased electrical demand and devices, increased fuel loads (called presents by kids), the addition of candles to the house and increased occupants (family) around the 25th of the month.
The first impact to consider is the good-old family Christmas tree. According to the NFPA, Christmas trees, both natural and artificial, were the item first ignited in an estimated average of 210 reported home structure fires annually during a four-year period from 2002. These fires caused on average 24 civilian deaths, 27 civilian injuries and $13.3 million in direct property damage per year. These estimates are based on data from the U.S. Fire Administration's National Fire Incident Reporting System and the NFPA's annual fire department experience survey.
During the same period, holiday lights and other decorative lighting with line voltage were involved in 240 home structure fires per year. These fires caused an average of four civilian deaths, 14 civilian injuries and $7.5 million in direct property damage annually.
Twenty-six percent of home Christmas tree structure fires and 40 percent of the deaths occurred on just five days: from Christmas Day to December 27, and New Year's Day. It would be in our best interests to think about the seasonal-related processes and the impacts they create. 
Some frightening statistics regarding the beloved Christmas tree include:

On average, one in 22 reported home Christmas tree fires resulted in a death.
More than four of every 10 home Christmas tree fires are caused by electrical problems or malfunctions, one in four resulted from a heat source placed too close to the tree and 6 percent were started by children playing with fire. 

Holiday lights were involved in 16 percent of the home Christmas tree structure fires, while fixed or portable space heaters were involved in 6 percent of these incidents.

Candles were the heat source in 12 percent of the home Christmas tree fires. Two-thirds of these types of fires were reported in December, with the reamainder in January.
I hope these statistics drive company officers and their crews to apply them to the districts they serve. Essentially, these statistics mean the probability of having a structure fire in your district increases at this time of year. In addition to the higher chance of a fire, add in the increased combustibility of both the fire and the presents (loot) that families place under the tree.
Where do families generally place their trees? Do they place them in out-of-the way corners to ensure emergency egress has been designed in their EDITH plan? No! They generally place them in a position that would preclude using the primary means of egress! During the study period, 39 percent of home decoration structure fires started in the living room, family room or den during the month of December compared to 21 percent during the rest of the year.
During Christmas, the average house, normally home to 2.3 kids and 0.6 pets, becomes almost a temporary boarding house for up to 15 people! Have they practiced their EDITH plan with the new housemates? No! One final impact to the increase in structure fires during this time of year is those lovely, warm sentimental candles. The study revealed that 71 percent of the December home decoration fires were started by candles, compared to 51 percent in January-November.
These statistics highlight the increased challenges for the fire service. Knowing that homes will generally have a Christmas tree and all the fixings, have you discussed with your crew the likelihood of bigger fires in these homes?
In addition, think about the following:
Have you discussed the added BTUs that wood or plastic tree fires add to the combustible fire load in a residence?

Which hoselines will you select for your primary attack? Will you choose volume or maneuverability?

Have you planned to perform numerous victim rescues?

Have you performed an exterior size-up on the residential types of construction in your area?

Can you read the exterior aspects of a house (vent pipes, window placement / size, architectural details) that may give you a clue as to how the interior of the structure is laid out? 

Will your standard 200ft. preconnect reach the front door much less the furthest corner of the structure? 

How many residences in your first alarm area have more than 2,500 square feet? If so, how will your crew modify its tactics to deal with essentially a commercial sized fire in a residential shell?

How will your crews operate in the cold weather environment and how will you assist your occupants to stay warm while you fix their problems? I have had the sad opportunity of fighting a few fires on Christmas Eve and Christmas Day. These types of events impact the children the most.  Do you happen to know where you may be able to access a few toys at the last minute?
All of these questions are ones company officers and their crews should spend time on as we usher in the holiday season. We have the opportunity to pre-plan our structures and our actions to help minimize fire damage and maximize life safety for both our customers and ourselves.
I could answer all of the above questions for my district, but it would be arrogant of me to assume I know the answers for yours. There are too many differences and unknown impacts. Take the time to look at the impacts that can occur to your area, utilize the questions above to start the pre-plan conversation and most of all keep your people safe! May you enjoy the season and create wonderful memories with your families! See you next year!