Federal investigation into Mass. firefighter's death begins
The National Institute for Occupational Safety and Health officials confirmed they have launched an investigation into the death of firefighter Christopher Roy
---
By FireRescue1 Staff
WORCESTER, Mass. — A federal investigation has been launched into the death of a firefighter who died in the line of duty, according to officials.
MassLive.com reported that the National Institute for Occupational Safety and Health has started its investigation into the death of Worcester Fire Department firefighter Christopher Roy.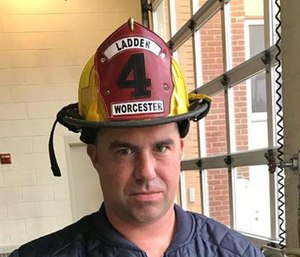 Roy died Dec. 9 after becoming trapped on the second floor of a burning building. His colleagues were able to reach him to pull him out of the building, but he died from his injuries.
NIOSH officials said it is difficult to say how long the investigation will take to complete.
The office of Worcester District Attorney Joseph Early Jr., the Bureau of Alcohol, Tobacco, Firearms and Explosives and the State Fire Marshal's office are also investigating Roy's death.
Since his death, several fundraisers have been held to support Roy's daughter, Ava. Click here to donate to the Ava Roy Fund.