Remember fallen S.C. firefighters
---
Editor's note:  Following the deaths of nine firefighters in S.C., FireRescue1 fire attack and tactics columnist Michael Lee gives his thoughts on the tragedy
.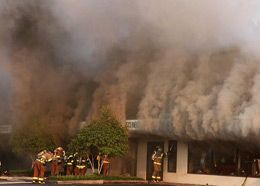 AP Photo/Alexander Fox
Firefighters get ready to extinguish the fire at the store Monday evening.
It is sadly ironic that such a large loss of lives occurred in the week fire departments are participating in the Safety Stand Down week, meant to remind firefighters of causes of line-of-duty firefighter deaths. 
Early reports of the tragedy suggest that the firefighters were performing interior search operations when the collapse occurred.
The questions that will be answered over the next weeks and months will focus on numerous possible causes for the structural failure. Many of those questions will call to mind the strategy and tactics utilized and who will be blamed.

Prior to any further comments, let me deliver my personal condolences to the families of the fallen brothers and the Charleston Fire Department. This event is one that we keep compartmentalized in the backs of our minds and hope it never occurs to us.
The following questions are asked to remind us of what decision-making events on scene drive our primary fireground decisions. This is not meant to be perceived as any sort of armchair quarterbacking.
Strategy questions
Some aspects of this fire force one to think of strategy and tactics questions. What volume of fire and smoke was present on arrival? How many resources were available to address the size of the problem and tactics selected? How long was the fire burning prior to the fire department arrival? 
As the occupancy was a sofa superstore, one is lead to believe this fire built rapidly due to the contents and materials stored on site. Was there sufficient water available in the area to combat a fire with a volume of combustible storage? What were the primary hose selections? Was the on scene command team prepared with RIT / RIC groups? Were there any indicators of impending collapse? Was the command team able to shift to a firefighter rescue operation after the collapse? Reports state that the fire started at 18:30 and the roof collapsed at 19:45 – were crews inside for too long based on the volume of fire and the type of construction? 
All of these questions were written to remind us of the numerous impacts that firefighters process while trying to manage a fire of this size. Know that NIOSH and other state and local agencies will ask all of these questions in the near future. When the final reports come out, please take the time to learn from them.  Nine of our brother firefighters have taught this, their final lesson. We owe it to them to learn what was taught.