Rock band offers $1M to RI nightclub fire victims
---
By Milton J. Valencia
The Boston Globe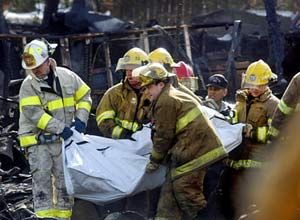 AP Photo/James Rogash
Firefighters carry the body of a fire victim from the charred wreckage of The Station nightclub.
WARWICK, RI — The rock band whose pyrotechnics ignited The Station nightclub blaze that killed 100 people in 2003 has agreed to pay $1 million to settle a suit brought by the victims' families and survivors, according to federal court documents.
Great White is the latest of dozens of defendants to reach a settlement with the families of the victims and about 200 other people who were injured. Roughly $175 million has been offered to settle lawsuits over the blaze, the fourth-deadliest nightclub fire in US history.
According to the proposed settlement, filed yesterday in federal court in Providence, the band does not admit any wrongdoing. The proposal must be approved by the more than 300 plaintiffs in the case, as well as a federal judge.
The proposal also hinges on a final agreement over how settlement money in all the lawsuits would be distributed among survivors and victims' families. That formula is being devised by a Duke University law professor.
The defendants in the case are listed as the band members, their tour manager, Daniel Biechele, Manic Music Management Inc., and Knight Records Inc. Band member Ty Longley was among those killed.
Lawyers for Great White could not be reached for comment yesterday.
The fire started when Biechele lit the band's pyrotechnics display in the West Warwick nightclub, sparking a flame that spread to foam insulation used as sound proofing. The foam acted as a fuel for the fire and a thick, black smoke quickly poisoned the air, making it a disaster within minutes.
Biechele pleaded guilty to 100 counts of involuntary manslaughter, admitting he did not have the required permit when he lit the pyrotechnics. He was sentenced to four years in prison and was released in March on parole after serving half that sentence.
The owners of the nightclub, Jeffrey and Michael Derderian, pleaded no contest in September 2006 to 100 counts of involuntary manslaughter. Michael Derderian was sentenced to four years in prison. Jeffrey Derderian was spared prison and received probation.
In recent months, numerous defendants have reached multimillion-dollar settlements with plaintiffs. Last month, the State of Rhode Island and the Town of West Warwick each agreed to pay $20 million to victims' relatives and survivors.
In May, several foam manufacturers agreed to pay $30 million to settle lawsuits. And that same month, Anheuser-Busch and a Rhode Island beer distributor agreed to pay $21 million.
By settling lawsuits the defendants did not admit wrongdoing.
Copyright 2008, The Boston Globe