Spotlight: PGI is outfitting the world for safety
For over seventy years, PGI has been creating industry-leading flame resistant fabrics and protective gear
---
Company Name: PGI, Inc.
Headquarters: Green Lake, WI
Signature Product: BarriAire Gold Partulate Barrier structural firefighting hoods
Website: https://www.pgi-inc.com/
1. Where did your company name originate from?
Originally started as Protexall Apron Company in 1942, the company primarily made PVC water- and chemical-resistant aprons and sleeves for major canning companies in central Wisconsin. Over the years, the company expanded into flame-resistant workwear and then structural and wildland PPE, which tmakes up 80 percent of our current sales revenue. To better reflect our emphasis on the manufacture of flame-resistant PPE, we changed our name in 1988 to PGI, Inc. which stands for "Protective Garments for Industry".
2. What was the inspiration behind starting your company?
Protexall Apron Company began in the basement of Larry and Eleanore Hasselman in 1942, protecting meat processing workers with tough, rubberized aprons and sleeves. When the demand for protective garments grew, so did PGI's ability to respond to the need for a safe workplace by manufacturing protective garments for the fire, emergency response, forestry, electrical and industrial marketplace.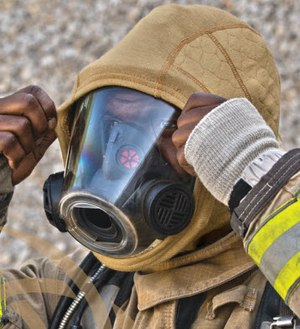 3. What is your signature product and how does it work?
BarriAire™ Gold particulate barrier structural firefighting hoods made from PGI's proprietary gold FR knit fabric and an inner layer of ultra-lightweight Nomex Nano Flex fabric, which inhibits penetration of harmful particle,s yet remains as breathable as standard firefighting hoods.
4. Why do you believe your products are essential to your vertical (Police, Fire, EMS, Corrections, Government) community?
PGI is a high-performance PPE manufacturer with a drive and relentless commitment to meticulous design, craftsmanship and service. Using only advanced premium materials and accessories allows us to create technical products that can be trusted to perform in the most extreme conditions. Our philosophy is to design and manufacture products that are as good as they can possibly be, performing over time and beyond expectation. Garments are designed to provide unrivaled performance at the point of extreme need.
5. What has been the biggest challenge your company has faced?
Over the years, PGI has faced and overcome many challenges. Currently, one of our biggest challenges is expanding our labor force to keep up with growing demand. In order to keep pace, we've established partnerships with world-class apparel manufacturers from both Mexico and India. Every garment outsourced is thoroughly inspected by us in our Green Lake, Wisconsin, headquarters to ensure it's made to PGI's demanding quality standards and meets all applicable industry standards.
6. What makes your company unique?
Our employees. They are our single biggest differentiator, both individually and as a group of diverse human beings. The people at PGI work with legendary dedication. Some say it's a special midwestern work ethic; a desire to do an honest day's work, and then to do a little more. Others claim it is a result of the stable lifestyle and no-nonsense values. Folks around here just say it all comes down to one word: pride. People who take pride in craftsmanship, quality and customer satisfaction.
7. What do your customers like best about you and your products?
Dependable quality and service. We take pride in manufacturing all our PPE to not only meet industry standards, but exceed them. Materials and workmanship are guaranteed for the life of the garment. We're honest and realistic in our communication with our customers which eliminates problems down the road.
8. What is the most rewarding part of serving the first responder/local government community?
Having an opportunity to meet and develop personally enriching relationships with so many exceptional safety professionals and first responders throughout the world.
9. Do you support any charitable organizations within public safety/community? Tell us more.
We support local, state and federal structural firefighting, technical rescue and police charities with both monetary and PPE donations.
10. Is there any fun fact or trivia that you'd like to share with our users about you or your company?
The company's founder, Larry Hasselman, was a lieutenant in the U.S. Army during World War II. During his time in the service, a new material, PVC, was developed and used to replace heavy wooden crates. PVC was lighter weight and both water and chemical resistant, making it superior to the wooden crates. After the war, Larry could see the value of this new material being used for lightweight aprons, sleeves and smocks, which offered water and chemical resistance. He started the company in the mid 1940s with an array of PVC PPE, many of which are still manufactured today.