Ohio city FFs voice concerns over LODD report, staffing, response times
Hamilton firefighters packed a city council meeting Wednesday and raised questions about omissions from a report on the fire that killed Firefighter Patrick Wolterman
---
Mike Rutledge
Journal-News, Hamilton, Ohio
HAMILTON, Ohio — Hamilton firefighters and their families filled council chambers on Wednesday night to show concerns about their staffing levels and emergency response times.
Tony Harris, president of International Association of Fire Fighters Local 20, told members of council that despite the economic downturn that hit the nation this decade, "as firemen do, we got the job done, for as long as we could get it done."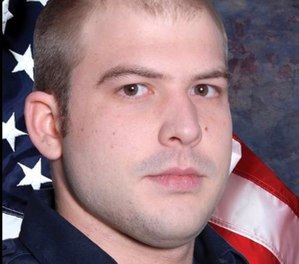 It's time to staff a fourth emergency squad ambulance to improve response times that will protect firefighters and the general public. In cases where people have suffered strokes or heart attacks, for example, minutes can be critical in saving a patient's life, Harris and others told the council.
City fire forces now handle about 15,000 emergency runs, about 3,000 more runs a year, "with the same amount of units that we were cut down to in 2013," Harris said.
He said he spoke before council in 2016, and told them then, "we were having a hard time maintaining the service that we wanted to provide."
Harris' Local 20 predecessor, Brian Ruhl, told council that when the city issued a report about the circumstances involved with the arson fire that killed Hamilton firefighter Patrick Wolterman on Dec. 28, 2015, three members of the city's fire service were so disappointed that the city removed key parts of a draft report that they refused to sign the final report. That report was released in March.
"Most maydays (urgent calls for help) occur in the first 11 minutes, 12 minutes on the scene," Harris said. "Our safety officers aren't making it on the scene for 30 to 40 minutes, long after the most dangerous part of our scene is over."
In the case of Wolterman's death, the safety officer didn't arrive on the scene for 45 minutes.
The Journal-News has requested a copy of the report's draft, including the deleted parts.
"I'm just here asking you, how do we resolve this? Because that's what we need to figure out," Harris said.
Perhaps a task force should be created to look into the safety issues, he suggested.
City Manager Joshua Smith said he was frustrated the firefighters' union didn't raise the issue during contract talks, which recently were resolved.
"Why was this not an issue that was raised?" Smith said. "If you truly believe what you just said, we were at the bargaining table this summer. (The union) just ratified a contract in the past 100 days. That was the appropriate venue."
Harris responded the city removed staffing levels from the union contract "years ago, and has never been willing to put it back in."
Ruhl told council, "There were omissions from that report (on Wolterman's death) and members of that committee opted not to sign the final copy because information that was included in the initial draft was not included in the final release."
"The big thing seems to be response time for the fire department, and the units that we have staffed," Ruhl said.
Ruhl also said the city once promised a fourth emergency medical unit would be opened in the city, "and that never materialized."
———
©2019 the Journal-News (Hamilton, Ohio)
McClatchy-Tribune News Service