Study shows 'nuisance fires' precede arson fire clusters
Reporting and understanding these 'small' fires matters for firefighters and fire investigators
---
By Thomas Hall
On any given day, firefighters respond to "small" fires in their jurisdictions – dumpster fires, grass fires and similar incidents. Most of these types of fire fail to trigger a larger response other than the arrival of an engine or brush truck. These fires tend to be quickly extinguished and soon forgotten. However, recent research indicates that these types of fires may ominously portend a larger – and growing – problem.
Study shows concerning pattern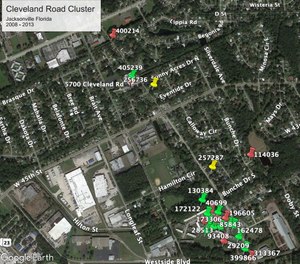 I conducted an analysis of selected clusters of fires in Florida from 1996 to 2018, and based on the available data, nearly every identified arson cluster was preceded by a small or "nuisance fire" before being recognized as a pattern.
In the study, a comparison of NFIRS reports against the Florida Bureau of Fire, Arson and Explosives Investigation reports highlighted 1,216 individual fires that contributed to the identification of an arson cluster. The study found that a delay in awareness on the part of firefighters and fire investigators may have allowed the pattern to more fully develop before a sentinel event (typically a larger fire) where a general recognition of serial fire-setting became apparent. Further, the study found that over half of the fires occurred within half-mile of each other, further focusing the fire-setting events.
Arson destroys the evidence
Approximately 8% of fires in the United States may be the result of arson, and intentionally set fires are the fourth leading cause of structure fires in the United States. Owing to the unique nature of fire investigations, this number may be a low estimate.
Specifically, with regard to investigating fires, the act of arson tends to destroy evidence of the crime. Many times, all the evidence an investigator has to reconstruct an incendiary event is the burn debris, eyewitness accounts, and the approximate time and place that the fire occurred. If a fire is created using an accelerant like gasoline or had highly flammable materials added, this might assist in the eventual determination that the fire was incendiary. However, the fire itself can also destroy the evidence that an accelerant was used.
A signature of serial fire-setters
Fires that occur within a small geographic area are known as fire clusters. The clusters may be developing or continuing at a rate not readily apparent because they are hidden in the much more frequent day-to-day routine events requiring the response of fire departments. Rarely do they become the subject of an investigation by fire investigators. As such, in most instances, the unique characteristics of clusters have not been fully explored. However, these clusters represent the signature actions of serial fire-setters. These offenders comprise one of the least understood criminal categories yet are responsible for property damage and other crimes far beyond that of other types of offenders – and require far more investigative effort.
These fires may be the initial announcement of a serial fire-setter's grievance. Serial arsonists light fires for myriad reasons. Research indicates that among these varied reasons, one of the most common is rage or a plea for help. An extraordinary group of serial fire-setters have been identified as having a high likelihood of having experienced childhood abuse, physical abuse or sexual abuse. Further, abuse may be a distinct type of trigger for juvenile fire-setters. These fires may be indictors of the harm being visited upon the young arsonist. Identification and apprehension may lead to discovery of abuse or other crimes.
A similar phenomenon was identified at Bellevue Hospital as early as 1951, according to "Pyromania. Pathological Firesetting." The researchers observed that patients with lower IQs resorted to fire-setting more often than others and postulated that the two issues might be connected.
"The Assessment of Criminal Behaviours of Clients in Secure Settings" followed with observations that challenged patients who set fires may have been attempting to communicate their distress. The "no other viable option" theory for communicating this distress resonates with observations from fire investigators.
Based on research and available studies, the fires start small and incoherent. Other aspects suggest an increase in sophistication and a progressive pathology. Further, in the results of a survey, researchers found that setting fires to an occupied structure was a likely indicator of the threat of future, perhaps more serious actions. In addition to occupied structures, setting fires to unoccupied structures and failing to report fires or summon help were also listed as significant indicators of future threat.
Key takeaways for firefighters
It is vital that all fire responses be fully documented. Every attempt should be made to determine the cause of the fire, including the undetermined findings. While the initial fires may present the responding firefighters with an unknown fire, the collocation of several fires (regardless of size or circumstance) presents the first indications of a serial fire-setter in action. Until the sentinel event occurs, when a general realization of a serial fire event becomes apparent, the smaller previous fires would offer fire investigators and fire responders possible clues as to the identity of the arsonist.
In the end, the small and nuisance fires become a vital piece of evidence in a larger pattern and progression of the serial fire-setter.
About the Author
Dr. Thomas Hall retired with over 41 years of combined military and law enforcement experience. During his time with the Marines, he worked as an intelligence officer, photographic interpretation officer and parachute safety officer. Upon his retirement, he became a State Trooper with the Florida Highway Patrol. His duties included crash investigation, and he was assigned to the Traffic Homicide Squad as an investigator. In 2006, he transferred to the Division of Investigative and Forensic Services, Bureau of Fire, Arson and Explosives Investigation. He was nominated for both the 2015 Florida Attorney General and 2015 Florida State Law Enforcement Chief's Association Investigator of the year. He is now the Program Director for Criminal Justice and Homeland Security for Keiser University, New Port Richey, Florida.