Conn. firefighter-paramedic awarded for saving 3 cardiac arrest patients
Bradley International Airport firefighter-paramedic Christina Palumbo saved three different passengers who suffered cardiac arrest
---
By FireRescue1 Staff
WINDSOR LOCKS, Conn. — An airport firefighter-paramedic was awarded for saving the lives of three passengers who suffered cardiac arrest.
Patch.com reported that Bradley International Airport firefighter-paramedic Christina Palumbo was awarded for responding to three separate cardiac arrest calls and helping the passengers regain consciousness.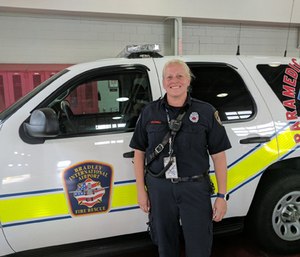 "It is unprecedented that the same first responder would face three critical incidents in such a short time span," a statement from the airport said. "Yet, she did and handled each one of them confidently and capably. Her quick response and diligence saved three lives. The Connecticut Airport Authority is pleased to recognize her heroism with an award."
Palumbo is part of a mobile EMS team established by the airport in an effort to allow responders to respond to medical calls in the terminal as quickly as possible.