Brewers buy dinner for Milwaukee firefighters in Boston
"We were there in Boston where they just recently had a tragedy. It was a little token of our appreciation. The least we could do was pick up their dinner," pitcher Kyle Lohse said
---
Milwaukee Journal Sentinel
MILWAUKEE, Wis. — Not only did the Brewers sweep the Red Sox in Boston last week, they honored a couple of Milwaukee firefighters with steak dinners and a memory that will last forever.
The Milwaukee firefighters, Andrew Wilke and Ryan Venne, are both big Brewers fans, but they weren't in Massachusetts for baseball. Their mission was a somber one: attending the funerals of Boston firefighters Michael Kennedy and Lt. Edward Walsh, Jr., who died battling a nine-alarm blaze.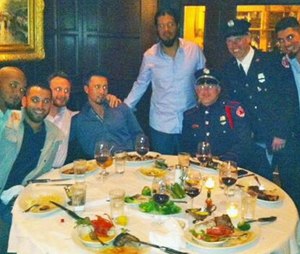 Wilke, 42, and Venne, 37, were among 10,000 firefighters from every state and many different countries who traveled to Boston to honor their fallen brothers.
"When the procession goes by, the man in the casket on top of that fire engine is going past, thousands of firefighters are saluting in respect, there's not a dry eye in the place," said Venne, a lieutenant. "That's our moment where it really hits home. In the fire service, no one is immune from tragedy happening."
Venne is a member of the Milwaukee Fire Department's honor guard, which helps out at funerals both for those killed in the line of duty and for retired members of the Milwaukee Fire Department. Wilke is often among the first people he calls when duty requires such a trip.
Wilke attended his first funeral with his father, a retired Waukesha firefighter, when he was just 6 or 7 years old. The sea of uniforms is one of his earliest memories. In 1994, just a year after Wilke joined the Milwaukee department, one of his colleagues, Lionel Hoffer, was killed in the line of duty. Wilke did not know Hoffer well, but had worked with him a few times that rookie year.
"The outpouring of support and people coming from all over was amazing," Wilke recalled. "There were people from Chicago, Los Angeles. It really left a mark. It meant more because I had actually known Lionel."
Both Wilke and Venne have firefighting in their blood. In addition to his father, the firefighters in Wilke's family include a brother and grandfather. The name of one of Venne's ancestors, Alfred Voelz, who died on the job in 1933, is engraved on the Milwaukee firefighters memorial downtown. Venne also has an uncle and a cousin who are firefighters.
"This is how we give back, by honoring these members that passed away doing the job that we do," Venne said of attending funerals. "We're bonded by the job. It truly is an extended family and a brotherhood."
The restaurant encounter with a group of Brewers pitchers and catchers was just one of many gestures of support Venne and Wilke received on their trip. A friend of a friend let the two men stay at their house so they wouldn't have to pay for a hotel. When they got lost, a stranger didn't just give them directions, he gave them a ride. A helicopter tour operator they met in a bar took them on a free sightseeing trip over the city. A young man in that same bar thanked them for their service and shared stories of Kennedy, whom he had known and whose funeral they had just attended.
"These people that were there, they were returning that favor. Everybody's hearts were heavy. They felt we were doing something for them, so they were doing things for us," Venne said.
It was the waiter at Abe and Louie's — a steakhouse not far from the scene of last year's Boston Marathon bombing — who first pointed out the baseball players.
"He came over and goes, 'Hey, you guys are from Milwaukee. I think that's the Milwaukee Brewers sitting over there,'" Venne recalled. "I'm a huge baseball fan. My wife is. My son plays baseball. We know the players. I peeked over there and recognized (Yovani) Gallardo. I said, 'That's the Brewers!'" Before the two firefighters could come up with a plan to get a picture taken with the team, the waiter went to set it up.
"Matt Garza stood up and offered me his chair," Venne said.
"They were very gracious," Wilke recalled. "They talked to us for about five or six minutes. Matt Garza asked us about why we were there, and we told him about the funerals ...Sometime thereafter, the server informed us that a member of the Brewers had picked up our dinner tab that night. It kind of left me speechless."
Pitcher Kyle Lohse, who paid the bill, said buying the generous gesture was Garza's idea.
"We appreciate what they do. They put their lives on the line for people," Lohse said Friday. "We were there in Boston where they just recently had a tragedy with that incident with their firefighters. It was a little token of our appreciation. The least we could do was pick up their dinner."
During the conversation, the firefighters wished the Brewers a good season. And the fact that the team has been on fire since then may not be a coincidence.
"The Brewers have not lost a game since we met them in Boston," Venne said Friday afternoon. "I don't know if it's us or Hank the dog, but we've got something going on here."
Copyright 2014 Milwaukee Journal Sentinel
All Rights Reserved