Boston fire dept.: Photo of paramedic at Boston Marathon false
Fire officials confirmed the person's identity in the photo as a Boston firefighter
---
By FireRescue1 Staff
BOSTON — Following an investigation into the validity of a paramedic's claim of responding to the Boston Marathon bombings, Boston fire officials have stated a photo he shared is not him. 
St. Louis paramedic Shawn Daniel told his department he responded to the 2013 bombings, and showed them an alleged photo of himself helping a victim.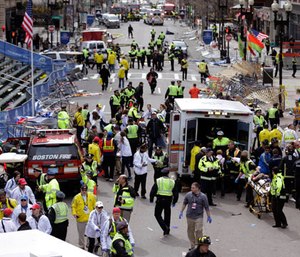 However, Boston firefighters told FOX25 Thursday the photo in question is not Daniel, but a Boston firefighter. The publication first covered the story after it was contacted by responders in Boston and St. Louis. 
Boston Fire Spokesman Steve MacDonald told FOX 25 they have confirmed the firefighter's identity, but that he does not want to be publicly named. 
"When I looked at the photo -- I show it to several of my colleagues -- instantly we said, 'That's a Boston firefighter,'" MacDonald said. "It's troubling that a person who is not a member is claiming to be a member."
An internal investigation was launched by the St. Louis Fire Department after Daniel was honored as a hometown hero at a professional hockey game last week. 
"There's a lot of holes in his story," Matthew Miner, Daniel's AMR supervisor, said.