Book Excerpt: History of the Apollo and Skylab Astronaut Rescue Team
Chief Bill Killen – surviving member of the original Apollo rescue team and former IAFC president – details the history of these unique teams
---
In "History of the Apollo and Skylab Astronaut Rescue Team," Bill Killen –one of five surviving members of the original Apollo Astronaut Rescue Team – details the history of the original Apollo Astronaut Rescue team, comprised of volunteers from within the Kennedy Space Center Fire Department and Department of Defense medics from the U.S. Army and Air Force. Forty-eight members of the KSC Fire Department served on Apollo and Skylab missions. Following is an excerpt from the book, including part of an interview with Roy D. Terry, Astronaut Rescue Team Commander Apollo 8-Apollo 16 missions.
It was a beautiful late-January morning with temperature in the 50s and traffic on Route 50 was light. I made my usual stop at the Donut shop in Christmas, FL, for a second cup of coffee, a greasy donut and jawboning with other workers headed for the Space Center.
I pulled into the parking lot at Fire Station #1 thinking it was going to be just another day of routine training since no standbys were scheduled at the Manned Spacecraft Operations Building (MSOB).
The Apollo One crew would be at Pad 34 at Cape Kennedy for a preflight test for Apollo 204. The mission was to be the first crewed flight of Apollo, and we would have a lot of support activity at Kennedy Space Center between now and February 21, [1967,] the scheduled launch date.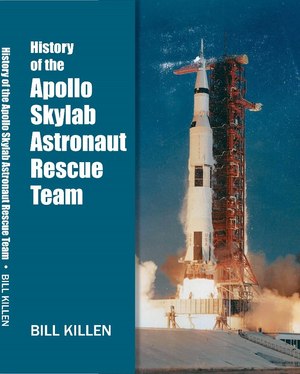 After dinner some of us assigned early rest were playing pinochle in the Day Room, when a little before 7 p.m., Dale Naugher, KSCFD dispatcher announced, "All Crew Chiefs report to Dispatch Immediately!
Paging all crew chiefs was like sounding a fire alarm. Everyone on duty reported to the Dispatch office. Naugher said, "I don't know what's going on, but Security has dispatched three supervisors to the MSOB with orders to secure Astronaut Quarters."
After a few minutes we were back in the Day Room when Walter Cronkite interrupted the broadcast and announced, "There has been a fire at Cape Kennedy involving a spacecraft."
The rest of the evening was spent listening to newscasts and Kennedy Space Center radio communications.
"What happened?" was the question on everyone's mind, and there was serious concern about the future of the space program.
Little did I know this horrible event would result in significant changes that would impact my fire service career for many years to come.
From Roy D. Terry, Astronaut Rescue Team Commander, Apollo 8- Apollo 16 missions:
"After the Apollo One fire, NASA assembled a committee to review the procedures on the Pad. This led to the establishment of the Astronaut Rescue Team.
The Navy and Air Force tried to get in the rescue business, without success. No one else knew what they were doing, so they chose me to do the job. I started looking around for people like you, guys with no brains, just lots of guts. Two or three people responded to the original letter that asked for volunteers for the Rescue Team. We didn't have a training area, nothing but scrub palmetto, sand hills and a couple of 55-gallon stainless-steel drums for a training facility. Those first two stainless-steel drums was the beginning of hypergolic training facility. If it hadn't been for Dr. Debus, we would have been shut down. Petrone, Debus and Buckley decided that I seemed to know what I was doing. I didn't, but the insert I wrote for NASA fuels contract document into Air Force hypergolic procedures manual led them to believe I did.
Do you remember that hunk of steel that come out of the pan and went over four hundred feet into the trailer? What a screwed-up mess, we were trying to take dummy astronauts out of a mockup command module.
Sometime between then and now, I guess Wozniak came on board. Damn good firefighting Rescueman. He ran circles around the rest of us. There wasn't anything he couldn't do, pull twice his weight. That's why I chose him for the prime six, nothing scared him.
Wozniak suggested the cage concept after NASA's single slide concept resulted in manikins' arms, heads and legs all over the place. Another of his ideas was to put water on the slide chute off the "A" level. The Teflon wasn't fast enough for the rescue team to get to the hard room. After the water was added, everyone was sliding 60 miles an hour. I don't remember who, but someone got hurt, hit the wall and broke his foot in the hardroom. When you think back over these things, it was a roller coaster ride.
The launch supervisors would call a rescue response drill. After the fifth launch, they began to feel good about us. We had gotten our rescue times down around 42 seconds. If a fire broke out, it was anticipated that we had 7-8 minutes to get up to the swing arm, get the crew out, and get then down to the slide wire. Unless the call was to pull the plug and go for broke on the cab, we could get the crew and get to the hard room.
As far as the tanks were concerned, we just about put them out the window. If that bird had ever blown there was no way those tanks could have gotten back to the bunker in time, I don't think there was too much of a chance of any of us getting out of there. It was a political thing really, something that was kept under wraps. One time around the end of 1969, there was a little publicity about the Astronaut Rescue Team.
When you stop to consider, we didn't have too much to play with. We had the evolutions as tight as we could get them at that time. The elevator wasn't fast in my book, especially if you got a bird burning up alongside of you. The deluge systems might have helped before the tower collapsed, with all that kind of fuel on board, I don't think there would have been much of that pad left.
It makes you think, when you look back at those emergency contingency crew systems out of NASA, they really didn't hold much hope to get in and get out on time.
I'll tell you one thing, I was rather proud of being there, especially with the teams. The fire service was a little tiring to me, but those were the teams that were exciting. You guys ought to be real proud of yourselves for what you did. I don't think there is anyone in this whole damn world that would ever have the chance to do what we have done. I guess it will go down in history. It's a damn shame that it had to be kept covered up so much."
History of the Apollo and Skylab Astronaut Rescue Team
Self-published
©2019 by Bill Killen
How to purchase: Contact Killen at Kirkbo65@charter.net
About the Author
Bill Killen is one of five surviving members of the original Apollo Astronaut Rescue Team. His fire service career spans 63 years and includes service as the director, U.S. Navy Fire & Emergency Services; president, International Association of Fire Chiefs (IAFC); and president/CEO National Fire Heritage Center. Killen was recipient of the Secretary of Defense Medal for Exceptional Public Service and the Military Firefighter Heritage Foundation's Lifetime Achievement Award.