Fire dept. investigates paramedic's claims of Boston Marathon response
Colleagues and supervisors of Shawn Daniel insist he was not in Boston the day of the bombing
---
By FireRescue1 Staff
ST. LOUIS — The St. Louis Fire Department is conducting an internal investigation after a paramedic was accused of making false claims about his involvement in responding to the Boston Marathon bombing. 
Fire department officials initially said paramedic Shawn Daniel, 31, was "amongst the many emergency responders who ran toward the blast site to assist the injured." However, Daniel's former manager in New Hampshire said he was not there and was working for AMR that day.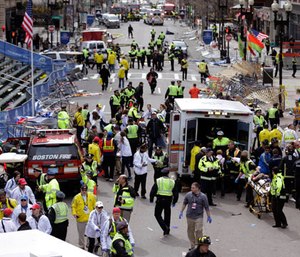 FOX25, which broke the story after being contacted by paramedics, reported that Daniel's direct supervisor, Matthew Miner, said Daniel went to New Hampshire as part of a "strike team" to help alleviate staffing shortages in the area weeks before the bombing.
"None of our trucks were actually down there for that," Miner told FOX25. 
FOX25 investigative reporter Eric Rasmussen obtained a work schedule that revealed Daniel was assigned to a wheelchair van more than 70 miles away from the marathon.
The St. Louis Fire Department said Daniel had told them he was transporting a patient to Boston that day and decided to respond to the bombings. Daniel also posted an image from the marathon of an emergency worker aiding someone at the finish line; multiple sources said the man in the photo was not Daniel. 
"It's not a good feeling at all because he misrepresents not only himself but the rest of us in the profession by making us all look bad," Miner said. 
The department said Daniel stands by his story, but are continuing to investigate.