Therapists help badly burned fire capt. stand
Capt. Pete Dern was burned over 70 percent of his body on March 29 when he fell through a garage roof while fighting a house fire
---
Fresno Bee
FRESNO, Calif. — Physical therapists helped Fresno Fire Capt. Pete Dern stand for a few minutes on Wednesday afternoon to help his recovery after falling through the roof of a burning garage.
"Early mobilization is important for overall healing including maintaining muscle strength" for movement, decreasing hospital stay and improving functional outcomes for normal activities of daily living," said Sandra Yovino, clinical director of the Leon S. Peters Burn Center at Community Regional Medical Center.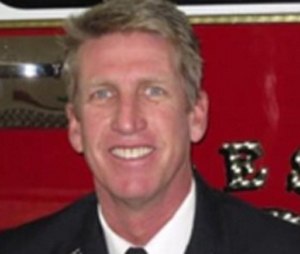 The burn center has two full-time physical therapists trained to care for patients with burn injuries.
Dern was burned over 70% of his body on March 29 when he fell through a garage roof while fighting a house fire and was engulfed in flames.
His heroism has been reciprocated with fundraisers (an online donation page at youcaring.com was approaching $129,565 in pledges Thursday evening) and blood drives, including one Friday from 2 to 6 p.m. at Clawson Honda and Clawson Motorsports, 6346 N. Blackstone Ave. in northeast Fresno.
Thursday, Dern's wife, Kelly, posted a message on the Fresno City Firefighters Local 753 Facebook page. It was addressed to "Dearest Family, Friends, Community, Country and World," and read:
"There aren't enough words to express my gratitude for the thoughts, prayers, visits, cards and donations that we have received. Your support is beyond anything anyone could have imagined and keeps me going during this unpredictable time.
"When Pete is awake, I share with him the outpouring of love and good wishes we are receiving.
"Thank you for being by my side on this journey.
"With much love,
Kelly Dern"
Copyright 2015 The Fresno Bee
All Rights Reserved