Ga. fire Lt. burned in blaze returns to duty
Lt. Josh Williams, who suffered third-degree burns in a house fire, was greeted by a line of his colleagues in celebration of his return
---
By FireRescue1 Staff
LAGRANGE, Ga. — A fire lieutenant who was badly burned while battling a house fire returned to duty.
FOX5 Atlanta reported that LaGrange Fire Department Lt. Josh Williams was greeted by a line of his colleagues in celebration of his return after he recovered from third-degree burns he sustained in a Labor Day house fire.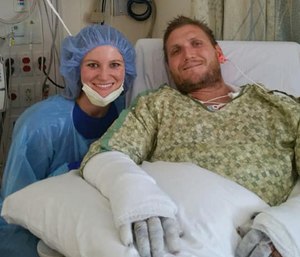 "We wanted to make today special for Josh to let him know we care about him and we love him," Chief John Brant said. "Anytime someone is injured like that it's a special day when they come back. Josh is real special to the department. It just means a lot to us on a personal and professional level. We really missed him being here and it means the world to us for him to be back."
Williams was one of six firefighters injured in the blaze, which fire officials said was one of the worst they had ever seen.
The lieutenant hugged every colleague in line before reporting for duty.
"It's a good feeling but a hard feeling," Williams said. "I felt this unbelievable support for the past five months. I just can't describe the feeling I have. It's truly amazing."
Williams will be on light duty until he fully recovers.
Amazing scene this morning as the LaGrange Fire Department Firefighters gathered outside of their Fire Administration building and welcomed back Lt. Josh Williams as he arrived for his first day back at work since he was injured in the Labor Day house fire. Lt. Williams will be assigned light duty where he will assist in training while he continues to recover!! #LFDStrong#WelcomeHome#Brotherhood

Posted by LaGrange Fire Department on Monday, January 28, 2019