Firefighter cancer survivor to share his story at symposium
Michael Dubron was given one-to-three years to survive after being diagnosed with Stage 4 colorectal cancer
---
By FireRescue1 Staff
LOS ANGELES — A firefighter who survived cancer founded a support network for other firefighters going through the same thing.
Michael Dubron, with the Los Angeles County Fire Department, was diagnosed with Stage 4 colorectal cancer in 2003 and given one-to-three years to survive.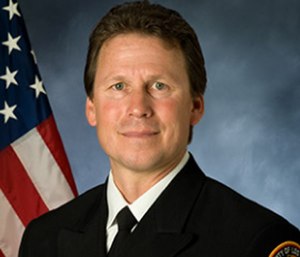 "I remember thinking, 'I would change anything not to have this diagnosis,'" Dubron said. "No one ever takes a class called Cancer 101 then walks into their doctor's office to hear a cancer diagnosis and is prepared for what to do."
Dubron had surgery to remove the tumor and spent nine months in recovery. Other survivors in his department helped him find resources and supported him through the journey.
"The benefit to that is most firefighters are such alphas, we don't want to seek assistance. But becoming a mentor is a great way to extend help. It's a great benefit to your life as well," he explained.
Dubron was inspired by the help he received from his firefighter family and went on to found the Firefighter Cancer Support Network. It started out as a local database for firefighters with cancer to connect with each other and soon grew into an international organization. Now firefighters can connect with others going through the same thing to prepare each other for conversations about the diagnosis with their doctors and the road to recovery.
Dubron is set to lead two workshops at the Fire Service Occupational Cancer Symposium in Phoenix Sept. 7 and 8. The symposium is sponsored by the Fire Service Occupational Cancer Alliance, a group of leading fire service organizations committed to addressing this burgeoning issue among firefighters.
"We need to make cancer a primary focus in the fire service. Not just something that is a subtitled subject," Dubron said. "We need to take a proactive approach not a reactive approach. It's a lot less expensive to invest in extra turnout gear than to pay for an individual's medical expenses."
Click here to learn more about the symposium and the speakers who will be there.