Firefighter runs marathon, raises $15K for firefighter cancer charity
While he was running the Boston marathon, Fire Lt. Russell Osgood was thinking of firefighters who are currently battling cancer or died from occupational cancer
---
Elizabeth Dinan
Portsmouth Herald, N.H.
PORTSMOUTH — Fire Lt. Russell Osgood ran his first Boston Marathon Monday, finishing in 5½ hours, while raising $15,101 for a firefighters' charity.
"It was a great experience," said Osgood, 48, who ran to raise the money for the Last Call Foundation, which has trained him to train firefighters with best practices for occupational-cancer prevention.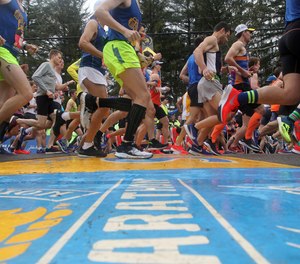 Seven months ago, Osgood hadn't run a mile in his life, owned one pair of old shorts and his only pair of sneakers were, unknowingly, two sizes too small. On Tuesday, he said he felt good and will likely run another marathon.
He said while he was running Monday's marathon, he thought about a local fire chief receiving cancer treatment that day and about firefighters who died in the line of duty.
"Those guys can't run," he said. "So I will."
Osgood said his running app showed he burned 4,500 calories during Monday's marathon and he figures he probably ate 2,000 calories during the run. He said he was used to running in cold weather, due to his winter training, so when the sun came out Monday, he heated up. The heat "was dragging me down a little," he said, but afternoon rain brought cooling.
Osgood said the cheering crowds along the marathon route kept him motivated.
"It was a great experience," he said. "It was wonderful."
Osgood started his training with two 5K runs, then increased to a 10K. In December, he started training with a team that trains Boston marathoners running for charities and started running 20 miles a week.
He's led several local efforts to raise money for cancer research and helped push for successful legislation to fund firefighter cancer treatment benefits through worker's compensation. When city firefighters first launched a cancer-awareness program in 2007, Sarah Fox, a firefighter and paramedic, was newly diagnosed with breast cancer. She died in December 2011, leaving a husband, three children and the city's firefighters who supported her and her family through four years of treatments.
Firefighter Jeff Bokum died of cancer five months later.
Osgood has also promoted year-round sales of T-shirts and hoodies at the city's fire houses to raise funds for the Firefighter Cancer Support Network and the Susan G. Komen Breast Cancer Foundation.
"We recognize cancer is one of the leading causes of firefighter death," he said last October, when promoting the shirts for the cause.
The Last Call Foundation reports it currently funds the Firefighter Cancer Support Network "train the trainer program," which pays for Osgood to bring the best cancer-prevention practices to other firefighters. The organization is also funding research on PFAS chemicals to see if the suspected carcinogen was used in firefighters' gear as a water repellent, then study possible health implications. It's also researching the development of fire hoses that "can't burn through," Osgood said.
———
©2019 Portsmouth Herald, N.H.
McClatchy-Tribune News Service