Video: Former fire chief with terminal cancer surprised with Super Bowl tickets
NFL Commissioner Roger Goodell surprised the terminally ill 40-year fire veteran Bill Duggan with two tickets to the Super Bowl
---
By FireRescue1 Staff
TARRYTOWN, N.Y. — A former Fire Chief who is battling terminal brain cancer was surprised with a gift straight off his bucket list.
Bill Duggan, a 40-year fire veteran who volunteered with the Tarrytown and Valhalla fire departments, was taken aback when NFL Commissioner Roger Goodell walked into the Main Street firehouse this past weekend to present him with tickets to the 2018 Super Bowl.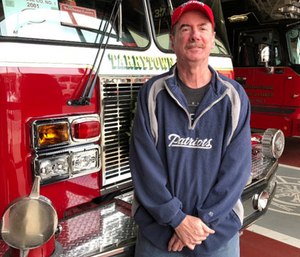 The NFL reported that a friend created a GoFundMe for Duggan, who is fighting Stage 4 brain cancer, in an effort to get him to the Super Bowl.
According to the fire department, Duggan was told a couple of weeks ago that he "only had a brief time to live."
The NFL contacted the organizers of the GoFundMe and said they had a surprise for Fire Chief Bill, This weekend, Goodell made the trip to Tarrytown to present Duggan with the tickets .
Today the NFL and Commissioner Roger Goodell made dreams come true for one of our own. For those of you who do not know, Bill Duggan is a member of Hope Hose. A couple of weeks ago, he was given earth shattering news that he had terminal brain cancer and only had a brief time to live. His friends and family launched a campaign to give him his life long wish: go to the Super Bowl. A few days ago, a representative from the NFL contacted the organizers of "Bills Bucket List" and told him they had a surprise for Bill. This morning, surrounded by friends and family, Commissioner Goodell walked in to our Main Street firehouse to personally fulfill Bill's dream. The Tarrytown Fire Department wants to personally thank Commissioner Goodell and the National Football League for their generosity and support of a man who truly deserves this gift. Have fun at the game, Bill!!! ABC7NY Tarrytown-Sleepy Hollow Patch News 12 Westchester FOX 5 / Fox5NY.com NBC New York CBS New York lohud ESPN New York and 98.7 FM ESPN http://www.nfl.com/news/story/0ap3000000889894/article/patriots-fan-battling-cancer-receives-two-tickets-to-super-bowl-lii

Posted by Tarrytown Fire Department on Sunday, December 10, 2017