First responders from around the US to play in Mass. hockey tournament
Around 1,800 responders from 27 states and three countries will compete in the Heroes Cup Hockey Tournament in April
---
By Jeff Malachowski
MetroWest Daily News
MARLBOROUGH, Mass. — The Marlborough community will welcome close to 1,800 first responders from across the country next month for the second annual Heroes Cup Hockey Tournament.
Mike Matros, a lifelong Marlborough resident and Sudbury firefighter, organized the Firefighter Faceoff in 2016—a charity hockey game between the Framingham Fire Department and firefighters from several area departments.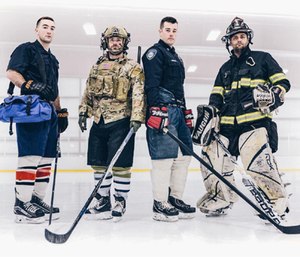 Teams of first responders contacted Matros in the days after that game seeking to get involved. He initially decided to create a 16-team tournament last year, but that number quickly grew to 50 after receiving interest from teams across the country.
This year, the Heroes Cup—which will be held April 20, 21 and 22—will increase to 80 teams from 27 states and three countries. The recent expansion of the New England Sports Center to eight rinks paved the way for more teams to participate.
"We've grown quite significantly," said Matros, a Sudbury firefighter the past eight years.
The 80-team tournament field is filled, said Matros.
Matros, who partnered with the Boston Bruins Foundation for this year's tournament, is excited for the Marlborough community to embrace the first responders. He is encouraging the teams to explore the city's nightlife, restaurants and attractions.
"We want to send a message that Marlborough knows how to welcome our first responders, heroes from across the country," he said.
Matros encouraged the public to greet and chat with the first responders if they see them around the city during the tournament weekend.
The teams are guaranteed three games, with the finals happening Sunday. Along with hockey games, the festivities will include public skating, an opening celebration Friday and a barbecue competition Sunday.
"It's a fun way to take in the championship games," Matros said of the barbeque competition.
Each team will raise $1,500 for the Heroes Cup Hockey Foundation, which provides grants to police, fire and military-based charities. The foundation has been helping the teams raise their $1,500 entry free. Any additional money the teams raise will go to the charity of their choice. Matros said several teams have already raised more than the tournament entry fee.
The Heroes Cup is a way for first responders to come together, play hockey and raise money for worthy causes.
"There's no question it's a brotherhood," said Matros. "The bond between these guys is unbelievable."
For more information on the Heroes Cup, click here.
Copyright 2018 MetroWest Daily News