'I have a responsibility': Brother of FDNY firefighter reflects on charity 22 years since 9/11
Frank Siller remembers the courage of his brother Stephen and the families the Tunnel to Towers Foundation has helped
---
By Ann Marie Barron
Staten Island Advance
STATEN ISLAND, N.Y. — Amid an intense, demanding 9/11 anniversary schedule packed with emotional ceremonies, lengthy memorial events and a host of media interviews, Frank Siller finds time to pray.
Before the sun rises, Siller, chairman and CEO of the Staten Island-based Tunnel to Towers Foundation, arrives at Ground Zero. There, he very privately reflects on the heroism of his fallen brother, Stephen, who lost his life at the site on Sept. 11, 2001, after running through the Brooklyn-Battery Tunnel, now known as the Huge Carey Tunnel, just after the World Trade Center was struck.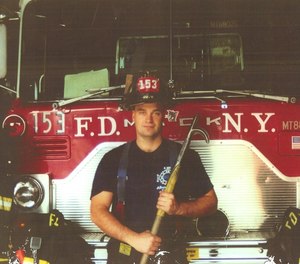 "I am there, praying," said Siller, 70. "I'm fortunate enough to be able to go to the site and see my brother's name. I think exactly about what he did and how courageous it was."
Later in the day, after the television interviews and public speeches imploring Americans to "never forget" the bravery displayed that day and also in the days, weeks and months following the attacks, Siller joins with some of his 65-member clan to again remember his baby brother, Stephen, his outrageous personality, and the heroism he displayed on the day he lost his life.
NO SURPRISE
"Him running through that tunnel and running up those stairs was no surprise to us," Siller explained. "It's something someone with his personality would do."
In between dawn and dusk, it's all business for Siller, whose Tunnel to Towers foundation, created by himself and his family to honor their brother's memory, has raised more than $500 million in support of Gold Star and first responder families, as well as catastrophically injured veterans.
Along the way, it has provided more than 1,000 mortgage-free homes to surviving families and specially adapted smart homes to those very special veteran heroes, he said.
Twenty two new mortgage payoffs were recently announced in honor of the 9/11 22nd anniversary, including one on Staten Island for the widow and children of a New York City transit police officer who died of a 9/11-related cancer.
Siller maintains the same frenzied 9/11-anniversary pace most days of the year, he admitted with a laugh.
But he's not complaining.
SO MANY ACTS OF HEROISM
"I spend a lot of time (that day and throughout the year) talking about what (Stephen) did, and it helps in the recovery process of learning how to deal with the great loss," Siller said. "There were so many acts of heroism that day."
The more he speaks, the more awareness is spread about the risks responders take every day, Siller said.
"It's an honor to do it," said the father of three and grandfather of six. "If I'm out there doing different interviews, it's helping to remember my brother. And not just my brother, so many others who made this sacrifice."
It's a promise his family made in the year following Stephen's death, when the siblings planned the first Tunnel to Towers 5K Run & Walk — a promise to never forget. The race began with 1,500 people in 2002 and is now considered to be one of the top 5K runs in America, with more than 35,000 people participating in 2022. And more than 80 similar events are now held in the United States annually.
As the foundation grows, his days get busier, Siller admitted, adding he considers it his duty.
A RESPONSIBILITY
"It's busy, because there's so many other families and so many other people who made a supreme sacrifice, and we at the foundation feel an honor and duty to tell the stories of these great heroes," Siller said. "I have a responsibility, and we made a promise as a family to take care of these other families in the way that we do."
In addition to the mortgage-free homes for heroes, the foundation also has launched a homeless veterans program, helping more than 500 homeless veterans last year and expecting to provide more than 2,000 this year with homes and a wide range of services. Current projects are underway in: Houston, Texas; West Los Angeles, Calif., and Phoenix, Ariz. Future building locations are planned cities across the country, including: New York City; Portland, Ore.; Seattle, Wash., and Colorado Springs, Colo.
As he prepares for the frenzied pace of the 22nd anniversary of 9/11 on Monday, Siller stressed that it's imperative that the names of the fallen be read aloud each year. He'll keep up a chaotic pace until he returns to Staten Island to reflect and remember with his family.
"And, yeah, it's not convenient, but so what?" he said when asked if his foundation obligations interfere with his private mourning.
"How many firefighters and cops are working that day?," he asked. "Would they like to be with their families? How many members of the military are working that day? Wouldn't they like to be with their families?"
GOODNESS TRIUMPHS
The good works delivered by the foundation in the years since that tragic day heavily outweigh any inconvenience, he said, shirking off any difficulty.
"Evil is not going to rule the day," he said emphatically. "Goodness triumphs over evil."
(c)2023 Staten Island Advance, N.Y.
Visit Staten Island Advance, N.Y. at www.silive.com
Distributed by Tribune Content Agency, LLC.
McClatchy-Tribune News Service