Mass. firefighters gather donations for Puerto Rico after hurricane
"People lost everything. Houses are all mud now. They've got to start from zero," said Firefighter William Pagan, who has relatives in the U.S. territory
---
Jill Harmacinski
The Eagle-Tribune
LAWRENCE, Mass. — City firefighters are rounding up donations for Puerto Rico after another hurricane seriously damaged the island — an American territory and home to 3.2 million people.
Lawrence firefighters led a similar effort in 2017 after Hurricane Maria knocked out electricity throughout Puerto Rico. Electrical deficits caused by Maria were still being fixed when Hurricane Fiona hit Puerto Rico in mid-September.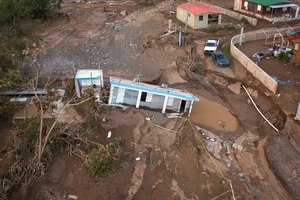 "This time around it's been rain. People lost everything. Houses are all mud now. They've got to start from zero," said Firefighter William Pagan, who has relatives in Utuado, a mountainous area in the central part of Puerto Rico.
Donations are being accepted at the fire department headquarters at 60 Lowell St. and at firehouses throughout the city. Warehouse space for donations has also been given to the firefighters at 440 North Canal St.
Donations of the following are requested: Batteries, flashlights, toothpaste, toothbrushes, soap, deodorant, sanitary wipes, adult and baby diapers, bottled water, alcohol gel, first aid kits, mosquito repellants, blankets, new clothing, pillows, laundry detergent and dish soap.
State Rep. Frank Moran (D- Lawrence), Methuen Fire Chief Tim Sheehy, Methuen firefighters' union and the Lowell Fire Department are making donations to the fund, firefighters said.
Puerto Rican organizations in the area are also involved.
Checks made out to "Borinquenos Unidos" can be dropped off at any DCU credit union branch.
"Anything we can give helps them out," Pagan said.
Local firefighters will work with fire departments in Puerto Rico to distribute the items, Pagan said.
"We have families and friends down there to guide us," he said.
President Joe Biden promised to "rebuild it all" while visiting Puerto Rico on Monday, as tens of thousands of people remain without power two weeks after Hurricane Fiona struck.
"I'm committed to this island," he said after receiving a briefing from local officials, acknowledging that Fiona was only the latest in a string of disasters that have pummeled the U.S. territory in recent years.
"Puerto Ricans are a strong people," Biden said. "But even so, you have had to bear so much, and more than need be, and you haven't gotten the help in a timely way."
The damage from Fiona, which came only five years after the even more powerful Hurricane Maria, will test his administration's ability to help Puerto Rico recover and bolster its defenses.
Puerto Rico has a higher poverty rate than any state, and it remains vulnerable to storms that are only becoming more powerful and frequent as climate change continues.
"What happened with this hurricane is that even though it was Category 1, in terms of water it was like Category 4," Puerto Rico's governor, Pedro Pierluisi, told Biden.
Five years ago, Lawrence firefighters gathered 22 pallets of donated water, food, batteries, flashlights and clothing to ship to Puerto Rico. They raised $7,500 to have items shipped there in a large container to Jayuya, a rugged, mountainous town in the center of Puerto Rico.
Pagan, and numerous other Lawrence firefighters, went to Puerto Rico then to help deliver the donations and help locals with repairs.
___
(c)2022 The Eagle-Tribune
McClatchy-Tribune News Service