New York Mets legend, 9/11 first responders team up to rebuild Ala. homes
"When we leave, each house will be in better shape," said James Earl, a retired New York City fire lieutenant and project manager with Heart 9/11
---
By John Sharp
al.com
MOBILE, Ala. — When Cleon Jones caught a fly ball to left field off the bat of Davey Johnson to end the 1969 World Series, 12-year-old James Earl erupted into cheers.
It's a memory of that "Miracle" or "Amazin'" Mets team that still brings a smile to Earl's face, more than 53 years ago.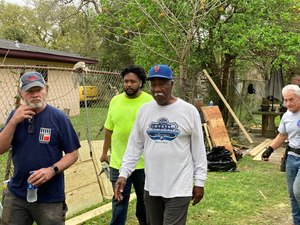 "He was one of my boyhood heroes along with several other Mets," said Earl, a retired New York City fire lieutenant. "I've been a lifetime Mets fan ever since."
He added, "there is only one Cleon in the world I know, and that's Cleon Jones."
So, when Earl found out last year about Jones' efforts to rebuild his historic hometown, he jumped at the opportunity to help. A project manager with Heart 9/11, Earl was able to get in contact with Jones – via the New York Mets organization – and assembled a team of about 30 retired firefighters and laborers who are at Jones' backyard this week.
Earl is in the Africatown community of Mobile to help the Mets Hall of Famer restore houses in a community that is gaining international attention for its link as the settlement of the survivors of the final transatlantic slave ship to arrive to the United States in 1860.
Earl and his group of Heart 9/11 workers are working in Africatown through Friday. They have a goal of rehabilitating "at least a dozen" homes through Friday, he said. Much of those homes are 100 years or older.
"Each house has its own problems," Earl said. "Some houses need a new kitchen. Some need a patch on the floor. Each house tells its own story. When we leave, each house will be in better shape."
Ground Zero link
Heart 9/11 is an organization that consists of retired first responders who bonded in the aftermath of the September 11, 2001, terrorist attack on the World Trade Center towers in New York City. The organization was formed in 2005 and assisted in the cleanup of New Orleans following Hurricane Katrina. Since then, it has assisted in other projects aimed at rebuilding communities suffering from man-made or natural disasters.
Half of the workers in Africatown this week are from New York, while the other half is from a Heart 9/11 group based in Tampa. In addition, the crew consists of members from Laborers' Local 79, Canfor Lumber, and the Africatown community.
"After 9/11, many people from across the country came to New York City to help us rebuild," said Mike Prohaska, business manager with Laborers' Local 79. "As construction laborers and New Yorkers, we're proud to help Africatown residents rebuild."
Earl, a New York City firefighter who retired in 2017 after a 38-year career, said the organization helps give back to other areas around the country, and across the world, for their efforts in helping New York City rebuild years ago.
"You'd sit down at the table (after a day at Ground Zero) and there would be someone from Oklahoma who was there cleaning up, and they would say, 'How are you doing?'" Earl recalls. "We'd see this every day. We were all one team. We were Americans."
He added, "Years later ... people will say there are many things that divide us. But more unites us. Here is a bunch of Yankees from up North, coming down to help people in the Deep South. It' a good, overall thing."
Rebuilding efforts
It doesn't hurt that a baseball hero lives in the neighborhood where the hard work is happening.
"Our ultimate goal is to restore this historic community to bring young families back in," said Jones, who lives in Africatown with wife, Angela, and is a community activist who runs The Last Out Communication Foundation. The Foundation coordinated with the New York Mets organization and to get the Heart 9/11 team to Africatown.
The rehab work is part of an ongoing effort to revitalize a mostly Black and aging community that has long battle poverty and deteriorating housing stock.
"We have to rebuild, plus we have to stabilize what we have here," said Jones. "This is a dying community. The average age is 60 or better. Our elderly are passing away at a record clip."
Previous efforts have taken place in recent years to revitalize Africatown's homes. Hundreds of volunteer workers through Georgia-based Mission Serve helped renovate homes on Newman Street in 2021, though an effort coordinate by Mayor Sandy Stimpson's office. The Mobile County Commission has also backed efforts to stabilize deteriorating houses, thanks to efforts pushed by Mobile County Commissioner Merceria Ludgood.
"This really kicks it up a notch," said Ludgood. "Every little bit helps. It has taken a while for the decline (of Africatown) to happen. It will take a while to come out from underneath it."
She added, "I am excited about Cleon. It was his community stature and his reputation (the enabled him) to get this crew to come. I think that is extraordinary."
Player's passion
Indeed, a good number of the workers in Africatown are New Yorkers and "life-long Mets fans" who are familiar with Jones' background with the team, Earl said.
"When they (learned we) were going down to help Cleon Jones, they were in," said Earl.
Jones, 80, got his start playing baseball as a youth attending Mobile County Training School in Africatown before evolving into a Major League Baseball All-Star with the Mets. He became the team's centerfielder in 1966 and was a player with the organization until 1975, one year before finishing his career in 1976 with the White Sox. Jones was inducted into the team's Hall of Fame in 1991.
Jones, who often wears a pristine-looking Mets baseball cap while working in Africatown, has been a leading neighborhood activist for years and long before the 2019 discovery of the hull of the Clotilda that propelled the community into a renewed spotlight.
Africatown's plight has been well-documented, and is illustrated in a new Netflix documentary, "Descendant," released in December. The Africatown Heritage House is scheduled to open in July.
"In my opinion, the Africatown community saved the Clotilda saga," Jones said. "Had this community died, we would not be talking about the Clotilda right now."
He added, "For the past 30 years, we've been trying to organize so we could find the Clotilda. As my wife said, 'it's in God's time.' We found the Clotilda, and the skies opened up."
Earl said he was not aware of the Clotilda story until reading more about it last year and admitted to being fascinated about its roots in U.S. Southern history.
"Coming from the North, it was always foreign to me," Earl said. "I went to an integrated school. You hear of the same stories about the people who live down here and it can be hard to relate. I can't change history or turn back the clock, but we can do what we do."
That includes fixing up houses for longtime residents like Deborah Knight. The crew put on a new roof to her Center Street home and was working on redoing her kitchen on Tuesday.
"I'm excited, thankful, blessed and I thank God," she said. "I'm just overwhelmed."
Boost population
Earl said the work runs the gamut. Some homes will get new roofs and siding, while others will have simple fixes to them.
"Until you walk into the door, you don't know what to expect," he said. "The termite damage and the rot are making (some of these) homes unsafe for the residents."
Jones said the goal is to continue doing the work, and to bring Heart 9/11 back to continue fixing up houses. He said that will take money, estimating that it costs around $500,000 to undertake a substantial housing rehabilitation project.
"Some of these homes were built in the 1800s," said Jones. "We have some built in the early 1900s. They are historic. We got to note that. But we cannot put a historic marker on rotting wood."
He said the goal is to make the neighborhood attractive enough for younger families to relocate and help re-establish a community that has dwindled in population from 14,000 residents when Jones was younger to around 2,000 today.
"If we can get it back up to 8,000, then we will be able to help our schools and churches," Jones said. "It' a goal of mine and my family and we hope to accomplish this."
©2023 Advance Local Media LLC.
Visit al.com.
Distributed by Tribune Content Agency, LLC.
McClatchy-Tribune News Service