FDNY firefighter saves choking diner while on date with wife
Stephen Cresci jumped into action when Juan Camacho, who was having dinner next to him, began choking on a piece of lamb
---
By John Annese
New York Daily News
A rookie firefighter's date night dinner with his pregnant wife turned into a chance to save a life when a man started choking at a table in front of him.
Stephen Cresci, 33, was having dinner at Da Noi, a popular Italian restaurant on Staten Island, on Friday night — "one last hurrah before the baby" — he explained Monday. His wife, Jennifer, is due Feb. 27.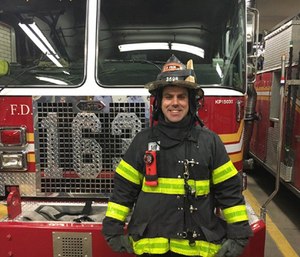 The couple finished their dinners and were about to start in on dessert, two tortonis, when Cresci said he heard someone in distress.
Neighboring diner Juan Camacho was choking on a piece of lamb.
"I just knew this guy was choking," the Engine 163 firefighter said. He tried to talk to the man, who turned red and started wheezing.
So Cresci jumped into action, performed the Heimlich maneuver, and with one thrust under his rib cage, dislodged a chunk of meat.
"Everyone was screaming, 'It came out! It came out!'" he said.
"When everything was over, I looked at my wife and I said, 'I could not believe what happened.'"
Cresci left without giving Camacho his full name, so the 52-year-old Staten Island man went on television, telling CBS2 that he wanted to thank his savior.
"I saw my life flash in a second, and the next thing I knew, I could breathe again," he said. "It was kind of like fate. How many chances do you have, a fireman sitting next to you when you're choking?"
Cresci, of Rosebank, a former city sanitation worker who graduated the most recent FDNY academy class in October, said he didn't expect the attention.
"I was not thinking this was gonna get blown up like this, but I'm glad I could save someone's life," he said.
Copyright 2018 New York Daily News