Calif. fire captain rescued after nearly falling through roof
The unnamed veteran fire captain was already halfway through the roof as his colleagues "put their own safety … to the side" and rescued him
---
SACRAMENTO, Calif. — A veteran firefighter was rescued by colleagues after nearly falling through a roof while battling a blaze.
KCRA reported that the unnamed Sacramento Fire Department fire captain, who has been in the fire service for 21 years, was helping put out a fire at children's apparel and toy store Once Upon a Child when the roof collapsed.
"His fellow firefighters that were there on the roof with him responded within seconds, which in turn rescued him," SFD Capt. Keith Wade said. "They put their own safety and regard for themselves to the side as they helped him. They reacted in a split-second and that was what was necessary to get a hold of him and help rescue that firefighter."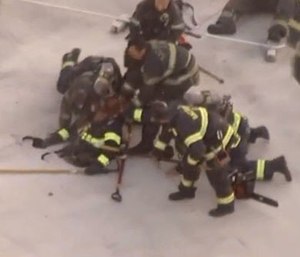 Wade said firefighters train for this type of rescue, but it "hits home" when it actually happens.
"When you know personally people involved and you're seeing something happen in real-time that you can't personally do anything for, it really hits home," he said. "It can swell you with some emotion."
Wade added that the situation "could have been a lot worse," and that footage of the event will be used for training.
"It will help with future training. It can help to draft policy and standard operating guidelines for how we operate when faced with similar types of fires in the future," Wade said.