Chief outlines 'survival skill' tips for new company officers at FRI
Chief Prziborowski said the position of company officer is the most challenging in a fire department
---
For a newly promoted company officer, getting off on the right foot is vital.
That was the message delivered by Steve Prziborowski, Acting Deputy Chief at the Santa Clara, Calif., Fire Department during a presentation at Fire-Rescue International on Friday.
Chief Prziborowski outlined a series of survival skill tips for the newly promoted company officer during the session, saying the position of company officer is the most challenging in a fire department.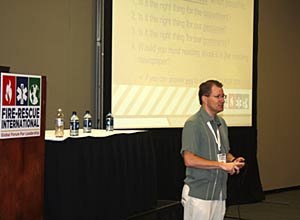 Company officers are typically the first supervisor on scene, Chief Prziborowski, said, which means they effectively represent the fire department and the fire chief, and are also the first conduit between the line personnel and administration
"How about the big incidents — who shows up first, the battalion chief or the company officer normally?" he said.
In addition, the role of company officer has changed drastically over the past 20 to 40 years.
More administrative duties, the fact company officers are effectively now the training officer for their crew, and the dangers the growth of social media presents to a department's image are all issues captains and lieutenants face nowadays, Chief Prziborowski said.

There are also a number of issues company officers face when promoted, the session was told, with the top six being:
You may have a probationary period
You may have a project to complete
You will be evaluated
You will be under the microscope
You will be tested continuously
You will make decisions that could have serious long-term effects on your trust, credibility and long-term success.
One of the most important things firefighters should do when promoted to the new rank is to outline what they expect from their crew, the session was told. "How do your folks know what to expect if you never tell them?" Chief Prziborowski said.
"How many times have you told your boss, 'You never told me not to do that?'"
"I realized as a captain and getting probationary firefighters that I had to give them some direction of what I expect.
"The good thing about expectations when you sit down and give them is that it can create dialogue — 'Here's what I expect but what do you expect of me?'"
Finally, it's vital new company officers get in the know regarding internal workings and logistics of their department, Chief Prziborowski told the session.
"Nothing embarrasses me more than when a member of the public asks the captain a question about their department or when a future firefighter visits the department and asks what their budget is, and they say, 'Um, I don't know.'"